Paper, Plastics, Glass & More
Blue Cart Recycling
BLUE CART RECYCLING GUIDE

Here's how to use the City's Blue Cart program to recycle at home
Sort all recyclable items into the reusable indoor collection bag provided to each unit.
Take your reusable bag to the collection area for your building and empty them into the Blue Carts available.
Some carts are collected from a central site each week; however, some are brought to a designated collection area.  If your complex requires that carts be moved to a designated collection area, please ensure the carts are there before 7:30 a.m on collection day, but no earlier than 8:00 p.m. the night before.
Statutory holidays will not affect collection.  The only exception is Christmas Day, where collection mau occur one day later if on a weekday. 
Please use the guide below for information on what items go in your Blue Carts.
What goes where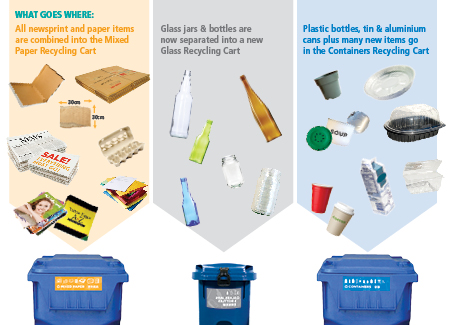 NEWSPRINT
PAPER PRODUCTS
CONTAINERS
What to Recycle

Newspaper
Non-glossy flyers and inserts

Catalogues & magazines
Cereal boxes
Glossy paper
Junk mail
Office paper
Packaged food boxes
Paper egg cartons
Window envelopes
Corrugated boxes/cardboard

Glass food and beverage containers
Rigid plastic bottles and containers with coding 1, 2, 4 & 5
Tin and aluminium cans

How to Recycle

Place in the Newprint Blue Recycling Cart

Remove plastic liners
Remove metal attachments
Flatten
Place in the Paper Products Blue Recyling Cart

Remove lids
Remove labels
Rinse clean
Place in Containers Blue Recycling Cart

Do not include

Bathroom tissue
Carbon paper
Drink boxes
Milk cartons
Paper towels
Waxed paper
Metallic gift wrap
Tissue paper
Plastic tabs

Aerosol cans
Ceramics (plates/cups)
Drinking glass
Film or soft plastics (e.g. grocery bags)
Fluorescent tubes
Milk cartons
Motor oil containers
Other plastics marked 3, 6, 7
Styrofoam
Window glass
How to Get an Indoor Collection Bag

There is no charge for new or replacement Blue Cart indoor recycling bags.  To get a new  or replacement bag, please call
604-276-4010
, order 
online
or pick one up at the following locations:
City Recycling Depot
5555 Lynas Lane
Wednesday to Sunday, from 9:00 a.m. to 6:15 p.m. 
(Closed on Mondays, Tuesdays & Satutory Holidays)
City Hall
6911 No. 3 Road
Monday to Friday, from 8:15 a.m. to 5:00 p.m. 
(Closed on Weekends & Statutory Holidays)
Planning Recycling Locations for Multi-Family Buildings

To learn about the City of Richmond's guidelines relating to garbage and recycling for multi-family residential buildings, read the
Waste Management Guidelies for Multi-Family and Mixed Use Buildings
.
Helpful Links & Resources

Blue Cart Brochure
Blue Cart Brochure (Translated in Traditional Chinese)
Recycling Depot

Metro Vancouver Recycling Directory