Business in Richmond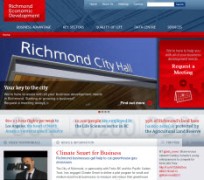 The City of Richmond Economic Development Office has a mandate to strategically grow Richmond's business and employment base and to ensure that the City maintains a competitive business environment.
Whether you are starting a business, expanding your current operation, or considering Richmond as a new location for your business, you will find all the necessary resources and support you need on the Richmond Economic Development website.
Visit Business in Richmond to:
Find information on Richmond's business advantages, key sectors, quality of life, and services available to businesses and investors, and
Access and interact with some of the site's unique features – save or print sector profiles, search for a Richmond facility or view and interact with the latest local economic data.
Doing Business in Richmond - Basic Requirements ENGLISH
Doing Business in Richmond - Basic Requirements CHINESE (Simplified)
Doing Business in Richmond - Basic Requirements CHINESE (Traditional)