Engineering & Public Works
Environmental Programs
The City of Richmond offers a number of comprehensive services designed to ensure a clean, livable and sustainable community for current and future generations. The Environmental Programs Department is responsible for coordinating the following services on behalf of residents: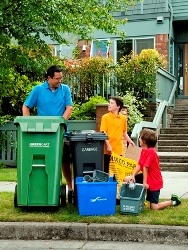 Blue Box and Blue Cart Recycling
Weekly curbside collection for recycling paper and newsprint, glass, plastic containers, empty aerosol cans, milk cartons, plastic/paper drink cups, spiral wound containers, and tin and aluminium containers. This program is provided to more than 72,200 residential units in single-family homes, townhomes and multi-family units.
Green Cart Recycling
Collection for recycling foods scraps and yard trimmings. This program is provided to residents in single-family homes and townhomes as well as multi-family complexes.
Recycling Depot
Drop-off service for products ranging from yard trimmings and household items, to hazardous materials and take-back program products. This service is available to all residents and in limited quantities for commercial operators. The Depot also sells compost bins, rain barrels, Garbage Tags and Garbage Vouchers.
Composting at Home
Support for residential composting includes the sale of compost bins, a composting demonstration garden and related workshops. These services are available to all residents.
Curbside Garbage Collection
Bi-weekly curbside collection of garbage, not including banned items such as hazardous waste and materials that can be recycled, is available to residents in single-family homes and some townhomes.
Extra Garbage Disposal
Garbage disposal tags and vouchers for the Vancouver Landfill provide options for residents when they need to dispose of additional garbage or large items.
Large Item Pick-Up Program
Residents in single-family homes, some townhomes and some multi-family complexes can arrange for collection of four large household items per year.
Community and School Engagement
Through partnerships with students, teachers and the School District, Richmond sponsors educational shows, awareness programs and volunteer opportunities to increase understanding of recycling and the benefits of reducing waste.

Litter Collection
City crews collect litter and abandoned waste from parks, bus stops, dykes and open spaces at various frequencies to meet peak seasonal demands.

The City's "Partner for Beautification" program encourages the community to become involved in litter pickup and other clean-up initiatives by "adopting" various areas throughout the City. This program goes a long way towards enhancing Richmond's overall appearance. 

For more information and a complete overview of the services provided please visit: https://www.richmond.ca/services/recycling/service.htm

Contacts: Environmental Programs

Related Topics