Engineering & Public Works
Facility Services
The Facility Services section administers all maintenance services for all 170(+) City owned buildings, rental properties and 50(+) rental houses. In addition to all planned maintenance and demand maintenance requests, this section also administers the facility energy management program, janitorial support, fire life safety systems, as well as building and staff security systems.

Overview of Services & Programs
Facility Services oversees:
Facility Health & Safety
To ensure the building staff and public enjoy a wonderful time.
Fire Systems
Access Control
Security Systems
Mechanical Systems
Facility Maintenance & Repairs
To ensure the operation of the building to support programs.
Demand Requests
Planned Requests
Preventative Requests
Facility Energy Management
To conserve energy.
Mechanical Systems
Lighting Systems
Facility Janitorial Services
To ensure health & cleanliness.
Facility Painting Programs
To ensure a colourful experience.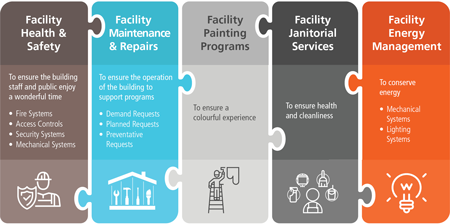 Work Control Centre
Emergency Contact for Building Maintenance Issues
The Work Control Centre is the primary contact for all building maintenance needs and emergency issues for all City owned buildings. This call centre can be reached 24 hours a day, 7 days a week:
Email: workcontrolcentre@richmond.ca
Phone: 604-233-3307

Emergency Contact for Other City-related Issues
In the case of an emergency such as broken water mains, sewer problems, downed trees on roads, traffic lights out, or icy roads, please call the City's 24 Hour City Emergency Line at 604-270-8721.
Graffiti
To find out how to report graffiti on City owned buildings please see the Graffiti Hotline page in the Property Bylaws section.

Contacts: Facility Services

Related Topics: