About the Richmond Arts Centre
The Richmond Arts Centre connects Richmond's diverse community with arts education, cultural experiences and creative spaces.

Located within the Richmond Cultural Centre, its amenities include studios for dance, music, painting, pottery, textile arts and lapidary arts as well as the Media Lab.

The Arts Centre is best known for its high-quality artist-led education programs for all ages, particularly for children and youth, but it is also home to a number of local Resident Art Groups, offers professional development support to artists and cultural groups through the Community Cultural Development office and is the producer of the annual Richmond Children's Arts Festival.
Visit Arts Education Programs for information and registration.
Interested in volunteering at the Richmond Arts Centre? Visit icanhelp.richmond.ca to register.
Richmond Arts Centre
180-7700 Minoru Gate
Richmond, BC V6Y 1R9
Phone: 604-247-8300
Email:artscentre@richmond.ca
Program Guide
Check out the upcoming programs in the Summer 2023 Guide!
Summer 2023
3 Ways to Register
Select the BROWSE & REGISTER button below
604-276-4300, Mon-Fri, 8:30am-5:00pm
In-person at any community facility. Note: Debit, cheque and cash are also accepted when registering in person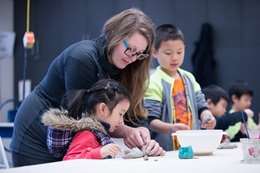 Facility Hours
Mon-Fri: 9:00am-9:00pm
Sat & Sun: 10:00am-5:00pm
Facility Staff
Program Manager, Community Cultural Development: Camyar Chaichian
Community Arts Coordinator: Todd Evanger
Arts Programmer: Jessica Jang
Arts Programmer: Amélie Nikitin
Arts Leader: Christine Corris-Wingfield
Arts Leader: Aliah Pingoy
Pottery Technician: Kennedy Snider
Media Arts Programmer: Melanie Devoy
Media Lab Youth Outreach Worker: Mia Mascarina