Cultural Centre
Room Rentals
The Richmond Cultural Centre has two spaces available for rent -- Performance Hall and Atrium – for private functions, workshops, craft sales, performances, recitals, concerts, exhibitions and more. Please review the brochure, below for details:



Room Rental Brochure
General Information
Room rental requests must be made at least two to four weeks in advance.
Space is not guaranteed or considered booked until full payment is received.
A damage deposit is due with each rental ($500 or equal to the rental fee, whichever is higher).
Insurance is required for all rentals.
Rooms are available for rent during the following hours, barring holidays:

Mon-Fri: 9:00am-8:30pm
Sat & Sun: 9:00am-4:30pm
Cultural Centre Performance Hall
Available only for arts, culture and heritage-related uses, this space features specialized lighting, soundproofed walls, tiered seating, a large open floor space and A/V equipment. Maximum capacity: 120 people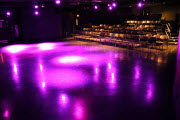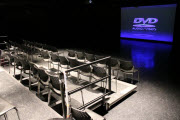 Performance Hall Floor Plan
Rental Rates
Basic Room Package
$300 per block*
Performance Hall A/V Package
$200 per day
* Each rental block is a minimum of 4 hours.

Atrium
This space offers a view of the Plaza with floor-to-ceiling windows and is suitable for interactive programs with access to portable white boards and flexible seating. Maximum capacity: 65 people.
Rental Rates
Basic Package
$150 per block*
Portable A/V Package: Portable Projector & Portable PA System
$75 per day
*Each room rental block is a minimum of 4 hours.
Request A Rental
Select the blue button below and complete the online form to request a rental of any of the room in the Richmond Cultural Centre.
Request A Rental