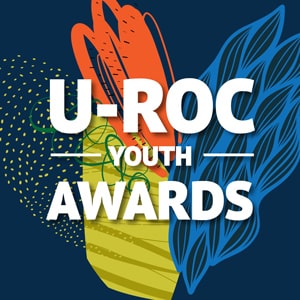 The City of Richmond is excited to announce that nominations are now open for the 2023 U-ROC (Richmond Outstanding Community) Awards.
The U-ROC Awards acknowledge the efforts of youth who have made significant contributions to their community, youth who have experienced and overcome barriers and adults who have provided support and mentorship to youth in Richmond.
There are two categories for nominations and all nominations should reflect contributions made throughout 2022:
Outstanding Youth – Youth who display exceptional qualities, make Richmond a better place and overcome barriers towards their personal success in the areas of mentorship, resiliency, contribution to community, leadership or teamwork.
Asset Champions – Adults who support youth in the community by building developmental assets through advocacy, youth programming, mentorship, youth engagement or community Support
Nominations can be made through the online nomination form. Nominations will be accepted until 11:59 p.m. on Monday, March 27, 2023.
Award recipients will be recognized and celebrated at the U-ROC Awards event, being held during BC Youth Week, which takes place, May 1 to 7, 2023.
For details about eligibility and to complete the 2023 nomination form, visit the Youth Initiatives page,
For more information on: