2022 News & Information
Richmond City Hall and the Works Yard closed for National Day of Mourning
15 September 2022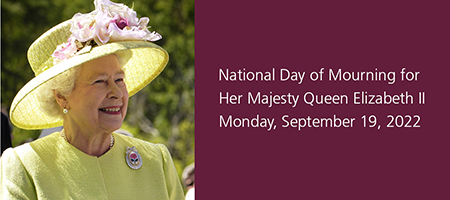 To observe the National Day of Mourning for Her Majesty, Queen Elizabeth II, Richmond City Hall and Works Yard will be closed Monday, September 19, 2022.
Community centres, arenas, swimming pools, as well as the Arts Centre and Richmond Nature Park will remain open on Monday with regular operating hours and with program and activities available as scheduled. To browse and register for available programs, visit www.richmond.ca/register.
The Recycling Depot will also close for the day. However, garbage, recycling and green cart collection will not be effected.
The Richmond Public Library's Brighouse Branch will be open 10 a.m. to 5 p.m. on Monday.
Many services will continue to be accessible on September 19 through the City of Richmond's website at www.richmond.ca. These online services include a variety of transactions, interactive tools and data searches. In addition, most information, forms, bulletins and flyers are also available on the website.
Richmond City Hall and Works Yard will reopen on Tuesday, September 20 at 8:15 a.m.