2022 News & Information
Vote for your favourite Richmond street banners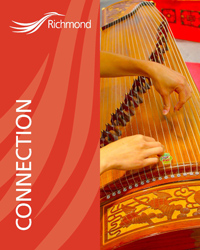 28 September 2022

The City of Richmond is asking the public to choose the next 10 banners that will fly high above the streets. This year's 20 bright and colourful street banner contest finalists can be viewed and voted on at LetsTalkRichmond.ca. Designs can also be viewed on the Street Banner Program page of the City's website and votes can be cast by emailing parksprograms@richmond.ca. All votes must be cast by 11:59pm on Sunday, October 16.
The following themes representing Richmond's distinct charm were reflected in over 500 design submissions: Wellness, Community, Connection, Wildlife, Neighbourhood, Urban Landscape, Nature, Waterfront, The Arts, and Sustainability. A judging panel made up of community volunteers were faced with the difficult task of narrowing the submissions down to the final 20. The 10 designs (one from each theme) that receive the most votes from the public will be named winners of the 2022 Street Banner Contest.
Over 1,000 street banners will be produced featuring the winning images. They will be installed on banner poles to enhance the City's spirit and beautify the downtown core and gateways from March 2023 to February 2024.
Richmond's street banner contest is a part of the broader Partners for Beautification program, which invites community members to become actively involved in the beautification of their City. For more information, visit Partners for Beautification Program page.

VOTE FOR YOUR FAVOURITE STREET BANNER