2022 News & Information
Richmond's Inaugural Tree Sale event helps residents grow city's urban forest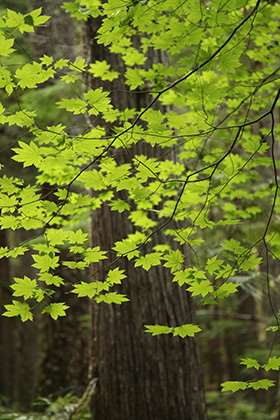 25 October 2022
The City of Richmond is encouraging residents to plant trees on their property by offering 500 trees at a reduced sale price this November. For $10, residents can purchase and plant a tree, which will increase Richmond's urban forest and tree canopy coverage. Order online between Tuesday, October 25 and Friday, November 18, and pick-up Saturday, November 19.
"Planting a tree gives back to the community for generations to come and this is why we are excited for our residents to chip in on making our City greener," said Mayor Malcolm Brodie. "The City is continually planting new trees to increase Richmond's overall urban forest canopy. Residents can take part as an active partner in the City's direction to grow the urban forest. Planting a tree on your property offers several benefits including boosting one's mental health, improving air and water quality, providing shade, providing habitat for birds and insects and leaving a positive legacy for future generations."
Overall, 500 trees will be offered to residents, 100 each of the following five species (chosen based on their suitable for our urban environment):
Vine Maple (

Acer circinatum

)
Nootka Cypress (

Chamaecyparis nootkatensis

)
Eastern Red Bud (

Cercis Canadensis

)
Paper Bark Maple (

Acer griseum

)
Japanese Tree Lilac (

Syringa reticulata 'Ivory Silk'

)
The trees, which are nursery-grown quality, will be in five-gallon sized pots and will range in size from three to six feet tall.
Purchasing a Tree
Richmond residents will be able to purchase one tree per residence, through the MyRichmond online portal or via www.richmond.ca/discover/events/tree-sale starting Tuesday, October 25 until 5 pm on Friday, November 18, 2022. The subsidized cost to residents for a tree is $10, a price set to ensure cost is not a barrier and to partially recover the City's cost of the purchase of the trees.
Tree pick-up
Once registrants select and purchase a tree online, they will be assigned one of three, two-hour time slots to pick-up their tree:
Date:

Saturday, November 19

Time:

Between 10 am and 4 pm

Location:

City of Richmond Works Yard, 5599 Lynas Lane, Richmond.
Trees are being offered to City of Richmond residents only. Residents will be asked to provide proof of residency at time of pick up.
City staff will be onsite distributing the trees, and will provide a tree-planting brochure specifically for the species purchased, as well as advice, where to find additional supplies at local garden centres and respond to any tree-planting related questions. The event will proceed rain or shine.
The City's commitment to sustainable tree management
The City's urban forestry canopy grows every year as new trees are planted throughout the community. In addition to trees being planted to replace trees removed due to decline, age or storm damage, the City is adding trees annually through capital projects including new parks, such as Tait Waterfront Park, the Garden City Lands and Aberdeen Park.
On private property, through development, an average of 1,400 new trees are planted annually. An additional 550 are planted on private property, which are associated with the replacement of trees removed due to non-development homeowner tree removal permits.
For additional information visit: