2022 News & Information
National Day for Truth and Reconciliation, a time to gain knowledge and reflect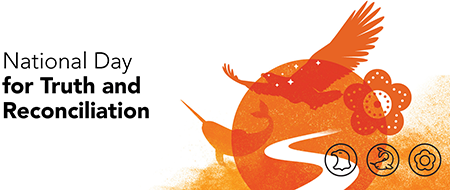 27 September 2022

Canada's National Day for Truth and Reconciliation honours the survivors of the residential school system, the children who did not make it home, as well as their families and communities. Friday, September 30 is an opportunity to learn, commemorate and reflect on the historical and ongoing impacts of residential schools.
To commemorate this important day, some City of Richmond civic facilities will be closed and some services will be limited on Friday, September 30.
City Hall, Works Yard and Recycling Depot will be closed.
Community centres, arenas, swimming pools and the Nature Park will be open statutory holiday hours, with the exception of Hamilton Community Centre, which will be closed. Contact each facility directly for hours of operation.

Garbage, recycling and green cart collection will be as scheduled.

The Brighouse branch of the Richmond Public Library will be open from 10:00am to 2:00pm. All other branches will be closed.
Through the City's website, many services will continue to be accessible online.
National Day for Truth and Reconciliation has been established in response to the Truth and Reconciliation Commission's Call to Action #80. The date coincides with Orange Shirt Day that honours the story of Phyllis (Jack) Webstad, a former residential school student who had her new orange shirt, bought by her grandmother, taken away on her first day at residential school. The orange shirt has since become a symbol of remembrance of all Indigenous children removed from their families to attend residential schools.
Resources and Engagement Opportunities