Community Partners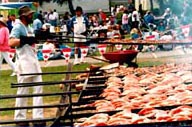 In Richmond, leisure opportunities are made possible through a partnership between the City and Community Associations. The City provides the facilities and core staffing and the Associations plan and fund all programs and events offered through these facilities.
The Associations actively seek volunteers, on an ongoing basis, to participate on the Boards or Committees. Contact any of the organizations above to find out how to get more involved in the community.
For a list of City Councillors appointed as liaisons to these groups see Community Association Liaisons.
For a list of non-profit organizations in Richmond see Community Organizations in the Discover Richmond section of this site.

Advisory Committees are another way to contribute to recreation, culture and other City functions. For more information about Advisory Committees, see Advisory Committees: Get Involved in Local Government.