Street Banner Program
About the Street Banner Program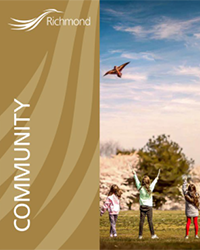 This City of Richmond program is a civic beautification initiative that strives to engage community members to submit creative and visually appealing designs taken from around Richmond. Banner designs are selected through an annual contest that is open to all members of the community. Entries received in the banner contest celebrate the places, activities and experiences that make Richmond so beautiful and unique.
2023 Street Banner Contest
Voting for your favorite street banner design is now closed; however, you may still view the top 20 semi-finalists on LetsTalkRichmond.ca.

Thank you to all who participated in this year's contest, both entrants and those who voted for their favorites. Your involvement is what makes this community- based program so unique and successful. The winning designs were unveiled on March 13, 2023.
Submission Gallery
In 2022, over 500 individual banner design entries were received. View the 2022 Street Banner Contest winning designs here. Please note: All artist's names have been removed to respect privacy and each banner design has been randomly assigned a number.
Past Banner Designs
Looking to own a copy of a favourite previously displayed street banner design? Past year's banners and recycled banner bags are available for sale at the Richmond Nature Park. Email nature@richmond.ca; or call 604-238-6188 to place an order. Available banners can be viewed below.
Banner orders can be paid for and picked up at the Richmond Nature Park main reception located at 11851 Westminster Highway, daily from 9:00am to to 5:00pm.

Availability is subject to change, customers are encouraged to call for availability and purchasing.
Please note: The banners for sale are from previously displayed collections with appearances that will vary in quality and appearance based on time spent in the elements (sun, rain, wind and snow).
2020 Street Banner Designs
2021 Street Banner Designs

Email parks@richmond.ca to inquire about wait lists or for more information.
Pricing
Street banners are $10 each or two for $15.
Recycled banner bags are $8 each.
Designs vary.

Dimensions: Street banners are 32" wide x 80" long.


Related Links