Parks
Dogs In Parks
Dogs in Richmond Parks
Here are a few things all dog owners and "walkers" need to remember when planning a dog walk in a local park:

Dogs must be on-leash at all times unless in a designated dogs off-leash area

.
All dogs must be visibly licenced (see below for more information).
Stoop and scoop: clean up after your dog.
Non-Permitted Dog Areas
There are three places in Richmond where dogs are not permitted:
Richmond Nature Park
Richmond Nature Study Centre (aka the Richmond Nature Park East)
Terra Nova Rural Park
These parks were established to preserve plant and endangered animal communities that are unique to Richmond. Help preserve these fragile areas by walking dogs at other dog-friendly parks or trails, or consider a dog off-leash area.

**Traffic Pattern Change: No. 3 Road Waterfront Park
Sunday, January 15 from 8:30am-11:30am
Eastbound on Dyke Road between No. 2 Road and No. 3 Road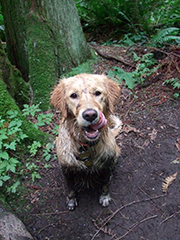 Dog Off-Leash Areas
The designation of dogs off-leash areas is an initiative by the City of Richmond, in consultation with the community, to provide areas where responsible owners may exercise their dogs on or off-leash.
Responsible Owners
Dogs must be kept under control by their owners at all times.
Stoop and scoop: clean up after your dog.
Dog owners must carry a leash at all times.
All dogs must be currently and visibly licensed.
Dog owners must maintain effective verbal control of their dogs and always be able to see their dog when off-leash.
Any dog exhibiting aggressive behaviour must be leashed immediately.
Dog licences can be purchased online or in person at Richmond City Hall. Call Animal Protection Services at 604-247-4663 or email doglicence@richmond.ca for more information.
Call the BC SPCA at 604-247-4633 to report animal cruelty.

Designated Dogs Off-Leash Locations
The following locations are available for off-leash activities:
Dogs Off-Leash Map and Brochure
View the brochure below for a complete and updated map showing designated off-leash locations. Consider printing a copy for quick reference.


Dog Off-Leash Areas Brochure