Trails System Map
West Dyke Recreational Trail
This trail is one of the most popular sections of the Richmond Trail System.

Located adjacent to Sturgeon Banks, the West Dyke Recreational Trail offers some of the most spectacular views of the North Shore and Coastal Mountains to be found in Richmond. There are panoramic views to the west of the ocean, Gulf Islands and estuary, with views to the north of the Coastal Mountains and Vancouver International Airport. This is the ideal place for watching a late summer sunset, or early morning sunrise while walking or cycling the trail.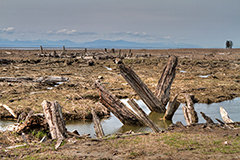 Sturgeon Banks is a 21,525-acre estuary located on the banks of the Fraser River and Strait of Georgia and is an important part of the Pacific Flyway, with 1.4 million birds migrating through the area annually providing excellent habitat for nesting birds. The long expanse of marsh that makes up Sturgeon Banks runs from Terra Nova in the north to Garry Point Park in the south and is adjacent to the West Dyke Trail extending west out into the Strait of Georgia.
Visit this area often as the seasons change to view the landscape's transformation from lush, green marsh grasses to its sepia, honey toned winter colour along with the flocks of Snow Geese.
Printable route map -

2021 Trails Map West Dyke Trail
Terra Nova Rural Park

This park resides in the northwest corner of the main island of Richmond with excellent views of the mountains, Vancouver International Airport, Sturgeon Banks, tidal flats, river and wildlife.

Terra Nova Rural Park has been specifically preserved to highlight its natural surroundings in a unique rural landscape, balancing heritage, wildlife conservation and recreational uses. Tree-lined paths meander past historic buildings, which date back to the 1890s.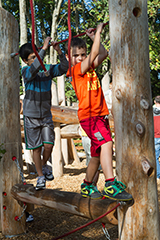 Features include native plantings, viewing platforms, pathways, picnic areas and a recreated slough. In cooperation with several community partners, the park promotes urban agriculture through a popular demonstration farm centre that includes community gardens, a schoolyard garden and a restored barn with a classroom and kitchen facilities for educational programs.
Complementing the park's "rural roots", the Terra Nova Adventure Play Environment is a unique playground experience for children of all ages including "natural play" elements in the design. Visit the Terra Nova Adventure Play page for more information about this exciting play experience.
Picnic tables, washrooms and parking are also available.
Terra Nova Natural Area
This 35-acre protected old field habitat includes a perimeter trail and viewing platforms to watch wintering birds, owls and hawks in this conservation area.
Limited parking available.

Visit the Steveston Greenways page for additional points of interest at the south end of the West Dyke Trail in the Steveston Village area.