About Recreation
Mandate, Facilities and Services
Richmond's parks and trails, facilities, programs and services are designed and delivered to provide the greatest benefit to the community as a whole, and to promote personal growth and enhance the quality of life of individual participants. Programs and services are planned to respond to the diverse and changing community needs and to minimize barriers to access.

The City provides and maintains over 145 parks, 73 kilometres of trails and recreation facilities including the Richmond Nature Park, nine community centres, four pools, two arenas and the Richmond Pitch and Putt Golf Course.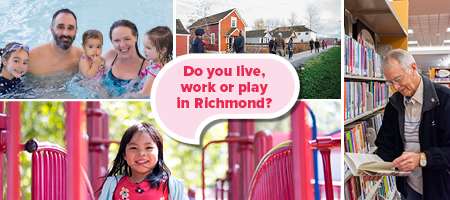 Community Services Needs Assessment
The City of Richmond conducts a community-wide study, approximately every 5 years, to better understand the perspectives of residents on current Community Services programs and services, including parks, recreation, arts, culture, heritage and libraries. This study helps inform the planning and delivery of future facilities, programs and services.
2023
The 2023 Community Services Needs Assessment is underway and the City wants to hear from all community members - even if those who have never stepped into a City building before.

There are two ways to participate:

Telephone Survey
Beginning February 16, 2023, a telephone survey will be conducted with the goal of reaching 1,000 residents. Oraclepoll Research, a trusted market research firm based in Ottawa, Ontario, will be contacting Richmond residents by phone or text on your landline or cell number.

If you receive a phone call, please take 10 minutes to participate.

Participation in the telephone survey is completely voluntary.

Your contact information is entirely confidential and will not be shared with the City.

You will never be asked for a password or payment information of any kind.
Online Survey
An online survey will be open to everyone from Thursday, February 16 to Sunday, March 12. The survey should take about 10 minutes to complete. The online surveys will be available in English, as well as Simplified and Traditional Chinese.
For more information on the 2023 Community Services Needs Assessment, visit Let's Talk Richmond
2015
The 2015 Community Needs Assessment provided valuable information to help staff and stakeholder organizations better understand residents' participation in and satisfaction with the City's facilities, programs and services.


2015 Community Needs Assessment - Highlights

2009
The 2009 Community Needs Assessment provided an overall snapshot of participation levels and satisfaction with the City of Richmond's parks, recreation and cultural programs and services, identifying unmet needs and barriers to participation and offered recommendations for addressing these gaps.


2009 Community Needs Assessment
Strategic Planning
Parks, Recreation & Cultural Services Master Plan (2005-2015)
The
Master Plan
is intended to be a strategic and directional resource that guides policy development and decision making. It is a comprehensive document to be used as a reference by all those involved in the delivery of parks, recreation and cultural services.
The Master Plan also addresses the development of additional service plans in key service areas and how the City will work with others to ensure that the community plays a meaningful role in the planning for and delivery of services in Richmond. Descriptions and links to these strategies can be found below: