Community Centres
Locations Map
Community and Recreation Facilities
The map below features Richmond's community centres and recreation facilities. Click on the name of a particular community centre or facility to be directed to individual web pages. (Scroll down to view the Community Areas Map.)
(for mobile devices use the corresponding text links below)
A link to a Google Maps listing of the community centres is also available at:

All Community Centres on Google Maps.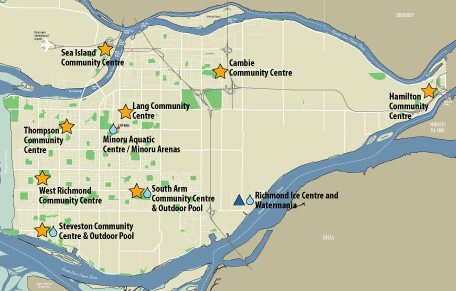 Parks and Recreation Service Areas

General Information
The City of Richmond is divided into eight local areas with each area having its own community centre and Community Association.
The City provides funding for buildings, maintenance and core staffing and the Community Associations are responsible for individual community programs.