Thompson
About Thompson - Facilities and Programs
Contact Information
5151 Granville Avenue
Richmond, BC V7C 1E6
Phone: 604-238-8422
Fax: 604-238-8433
Email: thompson@richmond.ca




Thompson Location Map


Thompson Area Facilities Map
Facility Hours
Mon-Fri: 6:00am-9:45pm
Sat & Sun: 7:00am-8:30pm

Program Guide


Winter 2023

Court Rentals & Drop-In Schedule


Winter 2023

Sports & Fitness
Visit these pages for more information:
Youth

Visit the
Youth Activities
page for community centre and City-wide youth opportunities.
55+ / Seniors

Visit the
Seniors Activities
page for community centre and City-wide 55+ opportunities.
Preschools & Out of School Care

Visit the
Preschools and Out of School Care
page for City-wide information.
3 Ways to Register

Select the BROWSE & REGISTER blue button

604-276-4300

, Mon-Fri, 8:30am-5:00pm
In-person at any community facility.
Facility Rentals
Visit the Facility Rentals page for City-wide rentals.

Events
Thompson Community Association, in partnership with the City of Richmond, offers a variety of events for the community to enjoy. Search the Calendar of Events to find events at this location hosted by the public, or other events throughout the City.

Volunteering
Visit the Volunteer page for community centre and City-wide volunteer opportunities.

Live 5-2-1-0 Playboxes
Visit the 5-2-1-0 Playboxes page for more information about this free family initiative for outdoor play.

Follow us on Social Media
To receive updates and information on upcoming programs, and events:

Thompson Facebook


Thompson Instagram



Facility Staff
Area Coordinator: Scott Schroeder
Community Facilities Coordinators: Suzi Rosenberg and Melissa Martin
Recreation Facility Clerk: Sacha Hasen
Recreation Leader: Ethan Haldeman
Fitness Coordinator: Natalia Orekhova
Community Development Coordinator: TBD
Seniors Coordinator: Trey Melton
Youth Development Coordinator: Shellby Sy
Rompers Preschool Coordinator: Anna Thymis
Terra Nova Preschool Coordinators: Emily Vera and Kate Dawson
Children's Party Coordinator: Megan Tolentino
Building Service Worker: Peter Balagtas
Thompson Community Association
This non-profit volunteer-driven group works in partnership with the City of Richmond to provide social, cultural, recreational programs, events and services in the Thompson area.

Annual General Meeting
Everyone is invited to attend the Thompson Community Association's Annual General Meeting in-person at Thompson Community Centre. Share in the reporting of the past year, meet Thompson's Board of Directors and learn about the plans for Thompson for the upcoming fiscal year. Thompson members and non-members are encouraged to attend the AGM to learn more about the Thompson Community Association, voice your needs and support the improvement of services. Thompson's members are eligible to vote at the AGM. Members are those who have bought a fitness pass, registered in a program or volunteered 20+ hours over the past year.


2023 AGM Package

Vision Statement
The Thompson Community Association is an active supporter of the community by providing social and recreational and sustainable programs, events and healthy living opportunities to enhance the quality of life and promote active living for all.

Community Association Executive
President/Director: Jennifer Dahl
Vice President/Director: Stephen Morris
Secretary/Director: Guy Anderson
Treasurer/Director: Alan Marchant
Directors: Otto Sun, Harry Wong, Eyal Lichtmann, Kathy Holt, Sam Samy, Farrah Meralli
Directors (Youth Members): Mina Chong, Jaia Manhas
Recording Secretary: Debby Newton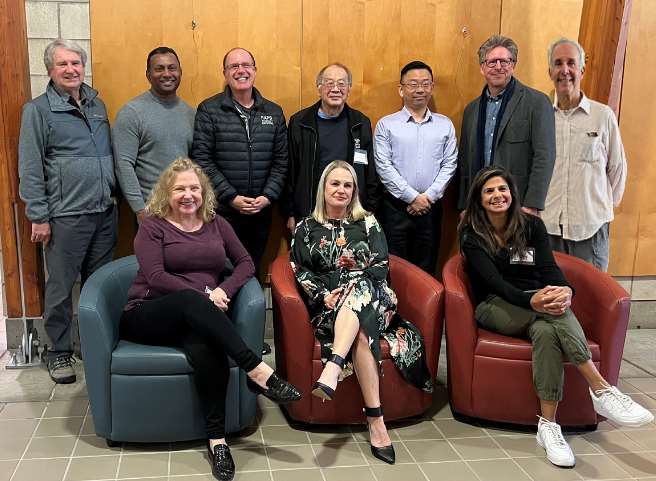 Join a Committee Today!
Consider applying to join one of the following committees:

Children's Committee: Works cooperatively with City staff and the Association Preschool Coordinator in the development, planning and evaluation of children's programs, services and events at Thompson Community Centre. The preference is for a parent/guardian whose child/grandchild currently attends programs and events at Thompson.

Art Committee: Works cooperatively with City staff and the Board in identifying and promoting public art projects in and around the community centre. The preference is for individuals in the creative arts field, i.e., photography, painting, visual arts, sculpture, tapestry, design, animation, etc.
Complete an application form and send to thompson@richmond.ca to apply.


Thompson Community Association - Volunteer Committee Application

Spread the word, Submit Your Art Exhibit with Us!
Artist from all cultural and artistic backgrounds, at any stage in their career are encouraged to apply. Thompson is always striving to build connection with a wide range of artists and to reflect the diversity in our community.

The application and submission process can be found at:


Thompson Community Association - Art Submission

History
The Association was formed by neighbours in the community seeking to provide their children with access to physical activities. Initially, free programs were provided often led by volunteer Instructors, usually housed in James Thompson Elementary School or J.N. Burnett Secondary School.

The Association raised funds to support these programs and outdoor space, originally designed and built by volunteers. As programs expanded, the Association began to employ instructors and charge fees always at a low cost.

In 1983, the former Richmond Works Yard building on Lynas Lane was converted for use as a community centre and the Association finally had a home. In 1995, with funds from the City of Richmond and a $750,000 GoBC grant, the current building was opened.

Volunteers continue to play a key role in all aspects of the operation of the Thompson Community Centre. The Board of Directors oversee all activities of the Association including the collection and payment of all program revenues and expenses. Committees (comprised of community representatives) provide input and support to the Association along with City staff to ensure the community's needs and expectations are met.