About Pools & Waterplay
Aquatic Services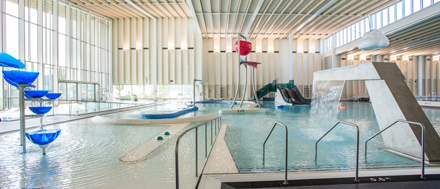 Contact Us
Richmond Aquatic Services
14300 Entertainment Blvd
Richmond, BC V3W 1K3


Phone:

604-448-5353


Fax:

604-448-5354


Email:

aquatics@richmond.ca

Aquatic activities improve posture, flexibility, muscular endurance, strength and balance, reduce stress, provide social interaction, develop healthy lifestyles and are fun.
We encourage you to enjoy the benefits of aquatic activities. Whether you want to swim laps, participate in an aquasize or aerobics class, work out in the gym or simply cool off and relax, Richmond's aquatic facilities have it all for you.
Richmond Aquatic Services operates four facilities; two of which are indoor facilities operating year round, and two are outdoor seasonal pools.
Program offerings include daily public swim sessions, Aquafit and group fitness classes, fitness programs, as well as swim lessons for beginners through to advanced training for lifeguarding and instructor certification. Competitive swimming and water polo opportunities are offered through Richmond's swim clubs.

Instructor/Lifeguard Training
Visit the Instructor/Lifeguard Training page for the steps to become an aquatic professional and how to become part of the Richmond Aquatics Team!

Need financial support to complete Instructor/Lifeguard training courses?
The City is subsidizing eligible Richmond applicants up to 90% of the total course fees through the Instructor/Lifeguard Subsidy Program.

Youth and adult residents (13+ years) who are experiencing financial hardship, and are interested in a career or position as an Instructor/Lifeguard are encouraged to apply. Visit the Instructor/Lifeguard Training page for details.

Aquatics Staff

Manager, Aquatic and Community Wellness:
Kirsten Close
Coordinator, Aquatic Services:
Renata Turick
Aquatic Supervisor:
Aila Morris
Aquatic Supervisor:
Julie Kaufman
Aquatic Supervisor:
Naiely Cabrera