Information for Event Planners
City Equipment Available to Rent
The City has several pieces of equipment available to rent for events. The details and associated fees are provided below.
Note:
he City does not have any other equipment available to rent including tables, chairs or small tents. Event Organizers must obtain this equipment from other suppliers.
Tap Water Stations
Two tap water stations are available to be booked for events. These are portable tap water units that connect straight to the City's water distribution system through an available connection point. Each station has two water fountains and three individual taps to refill reusable water containers.
The City of Richmond provides water stations free of charge, upon request, in an effort to encourage the use of reusable water containers and promote sustainable practice.

Contact the Events/Rentals Office at rentals@richmond.ca to request one or both stations.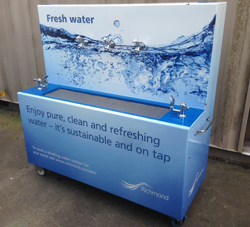 Garbage and Recycling Bins
Garbage and recycling bins are available to rent from the City's Environmental Programs Department, however a charge may apply. To rent, complete the online form a minimum of seven working days prior to the event