Sports Services & Events
About Sports Services and Events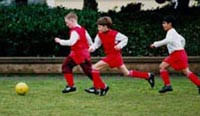 Sports & Community Events Services
City of Richmond Works Yard
5599 Lynas Lane
Richmond, BC V7E 5B2


Sports and Community Events Services provides leadership and support for sport organizations, community groups, non-profit agencies and for profit promoters involved in hosting outdoor activities, tournaments, festivals and events in Richmond. This includes the coordination of all requests to use School Board playing fields and gyms and City-owned parks and other properties.

Sports Services staff work in consultation with the Richmond Sports Council and community sports groups to assist with the coordination of services and space required for sporting events.
Organized sports are made possible in Richmond through a network of volunteer organizations. Visit the Community Organizations page to find information about sports teams and registrations.
Events
Search the Calendar of Events to find sports events hosted by the public, or other events throughout the city.

Sports Field Information
Sports Field Open/Closed Status: Daily Field Report
Fax: 604-244-1242

View Sports Field Bookings for more information about sports field rentals and tournament applications and Sport & Event Hosting Services for information about planning an event in Richmond.

Sport for Life Strategy (2010-2015)
The City of Richmond developed an innovative and exciting Sport for Life Strategy that aims to ensure that all residents are physically active and participate in sport and recreation for the long term. To learn more, view our video (4 min 26 sec).
Press the play button and then the square button in the bottom, right-hand corner to watch the video in full screen HD.
«
Endorsed by Council in November 2010, the process of developing the Richmond Sport for Life Strategy (2010-2015) was a collaborative effort between the City and a range of agencies and community organizations involved in the delivery of sports programs and services in Richmond.

Richmond Sports Wall of Fame
Visit the Richmond Sports Wall of Fame page for more information, previous award recipients and how to nominate athletes, teams and coaches.

Sport & Event Services Staff
Mandy Hadfield
Manager, Sports and Community Events
Phone: 604-204-8550
Email: mandy.hadfield@richmond.ca

Ross Sakai
Coordinator, Community Events
Phone: 604-233-3305
Email: ross.sakai@richmond.ca

Stacey Bridal
Coordinator, Sports Services
Phone: 604-244-1266

Events/Rentals Office
5599 Lynas Lane
Richmond, BC V7C 5B2
Phone: 604-233-3304
Fax: 604-247-4464
Email: rentals@richmond.ca

Related Links