Planning & Zoning
Agriculture in Richmond
Local Farm Fresh Food

Agriculture is an important part of Richmond's history and a significant contributor to the local and regional economy as well as a major land use across the City.
Richmond Local Food Map
Richmond has an abundance of local produce and seafood available directly from producers and merchants, as well as Farmer's Markets to showcase food and local artisans. Whether it be for shopping or as a family activity, exploring Richmond's Local Food Providers is a fun and rewarding experience. The Richmond Local Food Map is developed by the City of Richmond in partnership with Tourism Richmond and Richmond Food Security Society (Urban Bounty) to highlight local food producers.



2022 Richmond Local Food Map
Agricultural Land Base
Approximately 4,993 ha (12,338 ac) of Richmond's land base, or 39% of the City, is within the Agricultural Land Reserve (ALR). The total amount of area within the ALR and area zoned Agriculture outside of the ALR is approximately 5,563 ha (13,746 ac). These figures do not include ALR boundaries on Sea Island. The amount of land in the ALR has remained relatively stable in the last 30 years.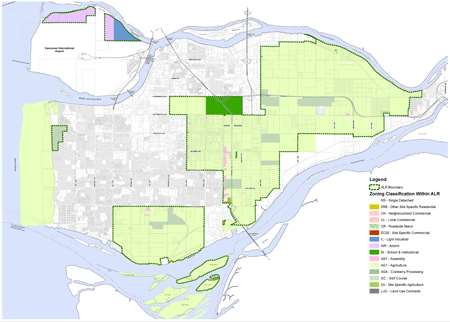 Much of Richmond's soils are organic, formed by fluvial (river) deposits of the Fraser River. Drainage is a major issue in Richmond, where the groundwater table is high. However, with improvements (mainly drainage), all of Richmond's ALR is considered to be prime agricultural land.
Farms and Farmers
Early settlers were attracted to Richmond by the fertile soils of Lulu and Sea Islands and the promise of agricultural productivity. Over the years, Richmond has grown and evolved into a vibrant urban centre. Despite the dramatic changes, a significant portion of Richmond's local area remains agricultural. Today, agriculture forms an important part of the local and regional economy as well as a major land use in the city.

Approximately 2,909 ha (7.189 ac) of Richmond is farmed by184 farms (2021 Census). The average size of a Richmond farm is 15.8 ha (39 ac). The remaining lands in the ALR are either vacant or occupied by non-farm uses (including roads, institutional uses, golf courses, etc.).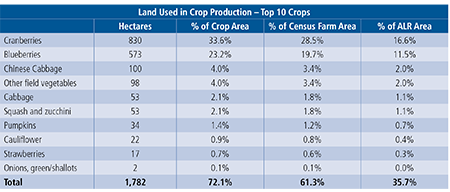 Cranberries are the most dominant crop in Richmond, with 830 ha (2,051 ac) in production, accounting for 33.6% of the crop total. In 2021, Richmond accounted for approximately 30% of BC's cranberry acreage. Blueberries are also a significant crop in Richmond, with 573 ha (1,416 ac) in production, accounting for 23.2% of the crop total.
The 184 farms that reported in the 2021 Census of Agricultural recorded gross farm receipts of $66.1 million, with an average of $359,239 per farm. This is an increase from $57.8 million of gross farm receipts reported by 189 farms in 2016, $48.6 million of gross farm receipts reported by 211 farms in 2011, and $40.5 million of gross farm receipts reported by 172 farms in 2006.
For further information on Agriculture in Richmond, please check out the latest
Agricultural Hot Facts sheet
.
Contact Information
For more information about Agriculture, the Food Security Agricultural Advisory Committee and land use policies in the ALR, please contact:
Policy Planning
Planning and Development Division
Phone:
604-276-4207
Email:
CommunityPlanning@richmond.ca