Planning & Zoning
Lulu Awards for Urban Design

What are the Lulu Awards?
The City of Richmond's Lulu Awards, held every four years, recognize, celebrate and inspire excellence in urban design in the City of Richmond. Awards are presented to exceptional projects that represent visionary thinking and "raise the bar" for design excellence in Richmond.

What is Urban Design?
Urban Design is the design of a city and all its outwardly visible components. Included are buildings and the open spaces between them: parks, walkways, bridges, water, landscaping, lighting and signage. Excellence in urban design is defined by how all these components work together over time to create an attractive, memorable and safe city.
The 2022 Lulu Award Program
In 2022, there are 11 categories submissions may fall under. Private and public sector projects are eligible, and anyone may nominate a project.

The nomination period for the 2022 Awards ran Jan 18 to Mar 31, 2022. The award recipients were announced on Nov 28, 2022.
2022 Award Winners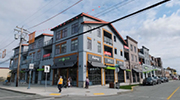 In residential and mixed use, mid-rise urban design category
The Roderick
Developed by Platform Properties Ltd., and designed by ZGF Architects Inc. and Perry and Associates. This mixed-use building is located in Richmond's Steveston Village at 12088 Third Ave. Built into the design, is a sensitive response to the heritage context of Steveston Village. The scale of the block-long building is broken down using heritage references and style facades, yet with a sense of a contemporary building. The building frontage along Third Avenue, Chatham Street and Moncton Street is animated with pedestrian-oriented commercial uses.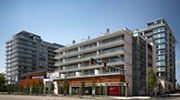 In the residential and mixed use, high-rise urban design category
2 River Green
Developed by ASPAC Developments Ltd., and designed by James K. M. Cheng Architects Inc., IBI Group Inc. and PFS Studio. This mixed-use building is located in the Oval Village at 6622 & 6688 Pearson Way. The development includes two 13-storey and one low-rise with 284 residential units in total. The site frontages along Pearson Way, River Road and Hollybridge Way are vibrant with pedestrian-oriented commercial units, two-storied street oriented residential units as well as gathering spaces. The design has a clever response to two distinct edges; Pearson Way with a grand, institutional-like residential entry court, and River Road with a welcoming public plaza with a significant public art piece.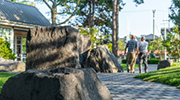 In the Public and Institutional Open Space urban design category
Steveston Nikkei Memorial
Designed by Hapa Collaborative. The Memorial, located at 4011 Moncton Street in Steveston, commemorates the 75th anniversary of the forced uprooting and internment of 2,500 Japanese Canadians from Steveston during World War II. The memorial also celebrates the rebuilding of the Steveston community following their return from internment following the war. This public open space design narrates an important story, with care and creativity. The design creates a tranquil and contemplative space in a high public context, in proximity to the bustle of Steveston Park, No.1 Road and Moncton Street. It is a powerful memorial with exemplary and sensitive execution.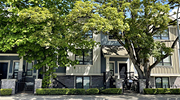 In the Landscape Innovation urban design category
Harrington Court
Developed by Western Maple Lane Holdings Ltd., and designed by Fougere Architecture and ITO & Associates Inc. The townhouse development with 15 homes is located in Blundell at 6028 Maple Road. The design recognizes the line of mature trees of No. 2 Road as a dominant site feature, and were preserved overcoming the challenge of grade difference. The innovative design includes sensitive response to grading, with short retaining walls and bridges to preserve the trees, resulting in a successful contribution to maintaining the neighbourhood and streetscape defining character, while also creating intimate private spaces for the residents.
2022 Honourable Mentions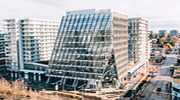 Paramount, residential and mixed use, high-rise urban design
This residential and mixed use, high-rise was developed by Keltic Canada Development, and designed by GBL Architects and PWL Partnership Landscape Architects Inc. It is located in the City Centre Brighouse Village at 6340 No. 3 Road. The design establishes a landmark and a sense of place at a significant corner of the City Centre. The design integrates the public art with the architecture, at a grand scale and prominence, fitting the urban context.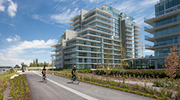 River Green Lot 9, residential and mixed use, high-rise urban design
This Residential and mixed-use high-rise was developed by ASPAC Developments Ltd., IBI Group and PFS Studio. It is located in the Oval Village at 6611 Pearson Way. The stepped down design of the buildings towards the river engages with the waterfront and connects well to the surrounding context. The design of the public space including sidewalks allows for pedestrian access on all sides of the development, offering accessibility and sense of connectivity to the neighbourhood.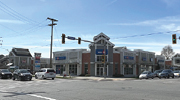 Minato Village, commercial urban design
The commercial development was developed by G&B Estates and West Coast Projects, and designed by Urban Design Group Architects and ETA Landscape Architecture. It is located in Steveston at 3900 Steveston Highway. The design includes a thoughtful integration of heritage elements to fit in the context. The design incorporates shade structures in between buildings to create well-held street edges and storm water management strategies in the surface parking lot.
---
Past Award Winners
2017 Award Winners
In the Public and Institutional Building category
Quintet- City Centre Community Centre and Trinity Western University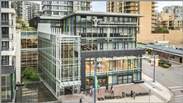 Developed by UEM Sunrise (Canada) Development Ltd. and designed by W.T, Leung Architects Inc. and Durante Kreuk Ltd., this four-storey institutional building is located in Richmond's City Centre Lansdowne Village at 5900 Minoru Boulevard. This four-storey building is designed as a distinctive element in a larger development. The design integrates the interior spaces with the street and the vertical visual connection with upper level open space. The public realm design has generous gathering space, allowing programming to spill out comfortably onto the street.
In the Public and Institutional Open Space category
Terra Nova Play Experience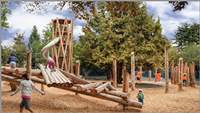 Designed by Hapa Collaborative and Lynne Werker Architect, this children's play environment is located at the west end of River Road in Terra Nova Park. The design is appreciated for incorporating unique play equipment with individual elements that interact with their context. The design showcases the agricultural past in the city and allows kids to connect to nature in the city.
2017 Honourable Mentions
The Bravo
Developed by ATI Investment Ltd., and designed by W.T. Leung Architects Inc. and ITO & Associates Inc., the residential high rise building located in the City Centre Brighouse Village at 6180 Cooney Road was commended for the attention to detail, the quality of materials, and the seamless integration of public art.
Trail Appliances
Developed by Trail Appliances Ltd., and designed by Chandler Associates Architecture Inc., and PMG Landscape Architects, the commercial building located in the Bridgeport planning area at 3388 Sweden Way was commended for the designed adaptive re-use of a former industrial warehouse building.
Crimson Maple Estates
Developed by Gary West Holdings Inc., and designed by Interface Architecture and PMG Landscape Architects, the townhouse development located in the Blundell planning area of 6711 Williams Road was commended for the innovative measures to retain the significant Crimson Maple tree from the heritage Yarmish House that previously occupied the site.
2013 Award Winners
In the Residential (Townhouse) category

Currents at London Landing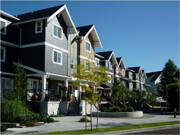 Developed by Oris Consulting Ltd. and designed by Hearth Architectural Inc. and van der Zalm + associates, this higher density building form fits well into an established neighbourhood and streetscape of townhouses and single family homes. The development includes single level units which increase housing options by providing an alternative to apartment building units.
In the Residential and Mixed-Use (High-rise) category

River Green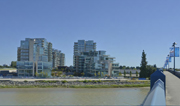 Developed by ASPAC Developments Ltd. and designed by James K.M. Cheng Architects Inc. and Phillips Farevaag Smallenberg Studio, this stunning development sits on the banks of the Fraser River in the Oval Village. Terraced residential apartment buildings vary in height from 4 to 14-storeys, with carefully-considered architectural and landscape design and a significant public art installation on the sides of a pedestrian bridge between two of the buildings.
In the Public and Institutional Building category

Steveston Fire Hall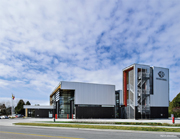 Designed by Hughes Condon Marler Architects and space2place design inc., this landmark building sits at the corner of Steveston Highway and No. 2 Road. The two-storey fire hall project was designed to a LEED gold standard and includes two equipment bays and a training and hose drying tower. The building was designed with an innovative open design approach incorporating visual openness and a high level of integration in the site, building, sustainability features, landscaping and public art.
2011 Award Winners
In the Commercial category
River Green Story Centre
Developed by Aspac Developments Ltd. and designed by James KM Cheng Architects Inc. The stunning building sits at the water's edge with a unique relationship to the Richmond Olympic Oval and the waterfront plaza. The building was designed to be a destination restaurant and is currently being used in the interim as the River Green sales centre. When the building is used as a restaurant in the future, outdoor patio use spill outside and enhance the building's unique site.
In the Industrial category
Hayden Drilling Supplies Ltd.
Developed by Hayden Drilling Supplies Ltd. and designed by Sanford Design Group. The two-storey industrial building was purpose built for a local manufacturing company. The project includes a high quality of design, materials and finishing for an industrial building. Attractive features include a corner architectural element, building articulation, water feature, and permeable paving in the parking area.
In the Innovative Approaches to Save Trees category

Southwind

Developed by Centro Southwind Properties Ltd. and designed by Ito & Associates Inc. This 21-unit townhouse development includes an innovative approach to save five mature existing trees along the rear property line. The design incorporates terraced backyards at the trees. These large coniferous trees contribute to an established landscaping for the Shellmont neighbourhood.
In the Residential and Mixed-Use (Mid Rise) category
Mandalay

Developed by Cressey Development Group and designed by Rositch Hemphill and Associates Architects. The 5-storey concrete condominium project includes high quality design, materials and finishing. The project presents attractive streetscapes along Hemlock Drive, Katsura Street, and to the adjacent Katsura Neighbourhood Park. The project has an open courtyard amenity space located next to the park, which extends a larger sense of open green space.
In the Residential (Townhouse) category

Hennessy Green

Developed by Polygon Hennessy Green Development Ltd. and designed by Robert Ciccozzi Architecture Inc. This 92-unit townhouse project in the West Cambie Alexandria neighbourhood has transformed the streetscapes along No. 4 Road and Odlin Road with individual street oriented townhouses, front porches and gated front yards. The development includes a large open courtyard space, and an amenity building that provides an attractive view into the development from Odlin Road.
In the Residential and Mixed-Use (High-Rise) category

Paloma 2
Developed by Regent International Development Ltd. and designed by Integra Architecture Inc. This is an attractive high rise project, with architectural treatment that establishes a street level base and elegant tower. Careful detailing and high quality materials at the ground level provide a fit for this project into its prime commercial city centre context. The street is animated with continuous street level commercial space.
In the New Landscape Elements category

A Gateway Landscape, Vancouver International Airport
Developed by Vancouver International Airport Authority and designed by Sharp & Diamond Landscape Architecture Inc. This is a large and comprehensive enhancement project to the lands at the Vancouver International Airport. The project presents an attractive gateway entry to visitors arriving in Richmond by plane, and also those arriving by car over the Arthur Liang Bridge. The enhancement project includes landscaping, transportation and engineering components and extends from the Arthur Liang Bridge to the YVR airport terminal buildings, to the South terminal and to the Sea Island Conservation Area.
In the Public Open Space category

Garden City Community Park – Play Environment
Designed by space2place design inc. This innovative park design has won numerous awards, and was created in collaboration with community members and elementary school students. The vision for this park was to create a place where children could use all five of their senses and enjoy nature. The play environment at Garden City Park has changed the way parks are planned, designed, and constructed and provides residents and visitors with an extraordinary outdoor place that is unique within the city, and perhaps even the local region.