Child Care
Child Care Needs Assessment and Strategy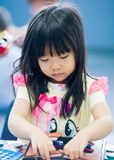 The City has completed three previous Child Care Needs Assessments, in 1995, 2001 and 2009, that have helped to guide City actions for its role in supporting child care provision in Richmond.

In 2016 the City of Richmond conducted a comprehensive review and analysis of Richmond's child care needs in order to forecast future needs for the period of 2017 to 2022. The methodology used for completing this report consisted of a literature review, demographic analysis, a review of best practises in other municipalities, on-line survey research (parents, guardians and child care operators), on-line forums, and focus groups (parents, child care operators and stakeholders).

The results of the community engagement process were used to develop a City child care strategy for the next five years. The 2017-2022 Richmond Child Care Needs Assessment and Strategy recommends that the City and other stakeholders work together to address the need for quality, affordable, accessible child care spaces in Richmond.



 2017-2022 Richmond Child Care Needs Assessment and Strategy

 Richmond Child Care Needs Assessment and Strategy- Key Findings