Traffic Signals
Signal Devices
The City of Richmond installs different traffic control devices to best match various levels of vehicle and pedestrian activity. These devices are:
Traffic Signals
The function of a traffic signal is to efficiently assign the right-of-way between conflicting traffic and pedestrian movements at an intersection. There are currently 138 traffic signals throughout the city. Richmond traffic signals utilize sophisticated vehicle detection methods to efficiently and safely respond to constantly changing traffic patterns. Not all traffic signals in Richmond are operated by the City. All signalized ramps from Highways 99 and 91, and two traffic signals on No. 3 Road (at Bridgeport Road and at Sea Island Way) are operated by the provincial Ministry of Transportation. All YVR-owned traffic signals on Sea Island are managed by the City of Richmond.
Map of Traffic Signals
Pedestrian Signals
Pedestrian signals are used primarily at "T" intersections and mid-block locations as a fully signalized pedestrian crossing. Pedestrian signals are recognized by the flashing green ball operation (unique to British Columbia). There are 45 pedestrian signals throughout the city.

Side Street Countdown Timer
Some pedestrian signals in Richmond have been enhanced with a side street digital countdown timer.
When main street traffic is stopped at pedestrian signals, side street motorists often enter the intersection during the parallel walk/don't walk sequence and "guess" when the signal will return to flashing green. When the light returns to flashing green, there are often conflicts between side street and main street vehicles. To reduce this conflict, Richmond uses a digital countdown timer to inform side street motorists of the number of seconds remaining in the walk and flashing don't walk sequence. This safety initiative has been well received by Richmond motorists.

Special Crosswalks
Special crosswalks consist of overhead illuminated signs with downward lighting and pedestrian pushbutton activated flashers. They are installed to increase motorists' awareness of the presence of a pedestrian by improving their visibility to approaching traffic. There are currently 75 special crosswalks throughout the city, more than any jurisdiction in British Columbia.
Overhead Crosswalk Signs
Overhead Crosswalk signs are installed on four or five lane roadways to enhance the presence of the crosswalk. It is the City's long term plan to upgrade these to special crosswalks as funding permits.

Fire Signals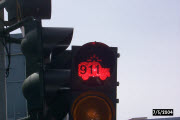 Fire Signals are installed for Fire-Rescue vehicles to gain quick right-of-way access to the roadway when responding to an emergency. These signals are located at mid-block Fire Hall driveways. When a fire signal is flashing red, vehicles are required to stop behind the stop line until the Fire-Rescue vehicle is clearly on the roadway and past the intersection.
Fire Halls located adjacent to traffic signals utilize an intersection all-red emergency pre-emption. A flashing 911 signal provides information to motorists that the signal is being pre-empted for Fire-Rescue response.
Red Flashers
Flashing red beacons are used at some 3- or 4-way stop intersections to enhance visibility of the stop sign control.
Warning Flashers

There are different types of yellow warning flashers for applications such as:
Advanced warning flasher (traffic signal ahead is about to turn yellow)
Hazard flasher
Bus merge flasher
Reduce speed flasher
Overhead Lane Use and Directional Signs
All overhead lane use and directional signs are installed and maintained by the Traffic Signals Group.
Accessible Pedestrian Signal Devices
Accessible pedestrian signals (APS) are installed at selected traffic signals frequented by the visually impaired and provide audible sounds and tactile features to indicate an active walk light. To activate the audible signal the pushbutton must be pressed. The audible signals use an internationally recognized standard of bird sounds:
a cuckoo sound when the north-south walk light is active; and
a peep-peep sound when the east-west walk light is active
At some intersections the city uses enhanced features to further assist visually impaired pedestrians by providing the following:
a pole locator sound that identifies the location of the pushbutton;
a special tone that is emitted when the button has been pushed;
a tactile arrow that identifies the direction of the crossing and vibrates when the walk light is on.
audible confirmation tone on button push;
verbal wayfinding message following audible acknowledgment
verbal "caution" message following verbal wayfinding message at special crosswalks
automatic volume increase based on ambient noise