Energy & Emissions
Electric Vehicle Charging Infrastructure
Electric Vehicle Charging Infrastructure in Residential Developments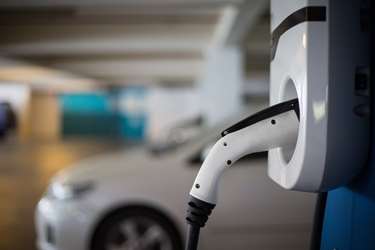 Electric vehicles (EVs) are an important component of a more sustainable Richmond. EVs result in zero tailpipe emissions, reducing air pollution and greenhouse gas emissions. They are also much lower cost to operate, are fun to drive, and offer a range of performance benefits compared to fossil-fuel powered vehicles. Supporting adoption of EVs is an important action in Richmond's Community Energy and Emissions Plan.
The vast majority of electric vehicle charging occurs at home. One the most important factors determining whether a household will choose to adopt an EV is whether they have access to a place to charge their vehicle. However, access to "at home" charging can especially be a challenge in multifamily buildings, as renovating in a source of electricity for EV charging stations in shared parking areas is often expensive. Constructing new developments to have a source of electricity to allow future installation of EV charging stations "future proofs" new developments so they will not require more costly renovations, is significantly less costly on a life-cycle basis.
​Electric Vehicle Charging Infrastructure Requirements for New Developments
In December 2017, City Council adopted an amendment to the Richmond Zoning Bylaw requiring that all new residential parking spaces feature an energized outlet capable of providing "Level 2" EV charging.
This requirement is explained in this Bulletin:


ENGINEERING-05 - Electric Vehicle Charging Infrastructure Requirements
​Resources to Support Electric Vehicle Charging in Residences
To assist developers, designers, property managers, and other interested organization implement EV charging in multifamily buildings and other building types, the City has published the following report with funding support from BC Hydro:


Electric Vehicle Charging Infrastructure in Shared Parking Areas: Resources to Support Implementation & Charging Infrastructure Requirements
To inform local government efforts to support EV charging at residences, the City also published the following guide with funding support from BC Hydro. This guide provides guidance on establishing EV charging infrastructure requirements for new developments, as well as supporting EV charging in existing residences.


Residential Electric Vehicle Charging: A Guide for Local Governments
​Where Can I learn More About Electric Vehicle Charging?
Households and businesses interested in implementing EV charging at home or at work should check out Plug In BC's Charging Solutions and Incentives.