Community Stewardship & Activities
Richmond Nectar Trail
Help us expand the Richmond Nectar Trail!
This third annual event aimed to educate residents and business of the importance of pollinators and encourage them to act by planting and maintaining small plots of pollinating plants throughout Richmond. In 2022 we celebrated our designation as a
Certified Bee City
.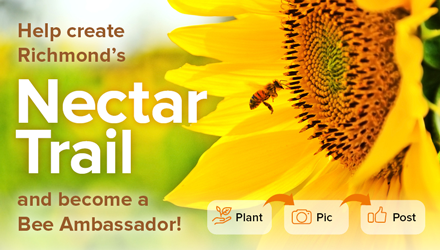 Last summer we asked you to mark your garden's location on our interactive map. This has allowed us to identify gaps so we can grow Richmond's Nectar Trail with stepping stone habitats so pollinators can easily traverse the City.