Gilbert Road Sewer Upgrade
Gilbert Road Sewer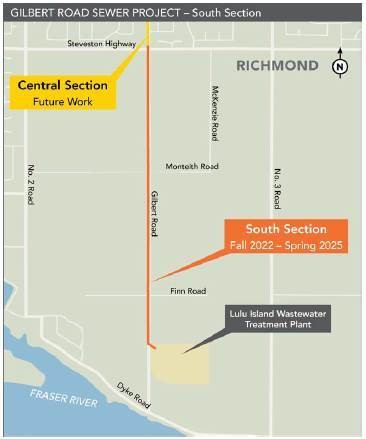 The Metro Vancouver's Gilbert Road Sewer transports the majority of Richmond's sanitary sewage to the Lulu Island Treatment Plant. The existing sewer is operating at full capacity.
In 2013, Metro Vancouver began a major project to upgrade the regional sewer line by constructing a second sewer line next to the existing pipe beneath Gilbert Road. Once complete the project will facilitate future maintenance, provide increased conveyance capacity to minimize backups and accommodate future growth in Richmond.
Construction Schedule
Construction of this project is occurring in multiple phases.
Complete: Construction of the first phases from Metro Vancouver's Bridgeport Pump Station to the intersection of Gilbert and Blundell Road is complete.
Upcoming: The South and Central sections of the Gilbert Road Sewer Project are scheduled to begin in Fall 2022 and are expected to complete in Spring 2025 .
Project Updates
Crews are expected to start work at the south end, at the Lulu Island Wastewater Treatment Plant, and move northward along Gilbert Road towards Steveston Highway (please see adjacent map for exact work locations). The Metro Vancouver project team will provide regular and timely construction information through fact sheets, newsletters, mail, email, on-site signage and Metro Vancouver's website.
Hours of Work
Work will generally occur from Monday to Friday, between 7:00 am and 8:00 pm and on Saturdays between 10:00 am and 8:00 pm. There may be times when crews will need to work extended hours in order to complete specific tasks and/or stay on schedule. All work will comply with City of Richmond bylaws or granted bylaw variances.
Metro Vancouver Project Contact Information
Community Liaison Officer
A Metro Vancouver Community Liaison Officer (CLO) has been assigned to this project whose duties will include communicating with the public regarding safety. In addition, Metro Vancouver will have a full-time site inspector on the project whose duties will include monitoring construction and public safety.
Phone: 604-432-6200
Hours: Monday to Friday from 8am to 4:30pm
Email: icentre@metrovancouver.org
(Please include "Gilbert Road" in the subject line)
After-Hours Emergency: 604-451-6610