Event Planning Resources
Richmond is a diverse, vibrant and multicultural island city with a unique mix of residential and commercial property, agricultural lands, industrial parks, quality recreation, cultural and heritage facilities, waterways and natural areas.
Whether you are planning a sport tournament or event, a wedding, a meeting or convention or a special celebration, Richmond may be the ideal destination to host your event.
What is an Event?
Depending on the size, scope, and location of your planned event, there may be different requirements and application processes. If you are planning a gathering that includes a City-owned or managed property, use the checklist below to determine if what you are planning is considered to be an event and, if so, what approvals are required.
Common events include parades, walkathons, bike races, tournaments, swim meets, block parties, concerts, festivals and carnivals.
For a gathering that includes City-owned or managed property, use the checklist below to determine if what is being planned is considered to be an event. City-owned or managed properties includes parks, trails, buildings, sidewalks and streets.

The City of Richmond defines an event as a gathering of people that requires exclusive use of a site and is proposed to include one or more of the following aspects:
Is expected to have a greater impact on the site, neighbouring communities, the surrounding residents and/or other facility operations than the intended site use.
The installation of external infrastructure including, but not limited to the following: a stage, generator, power equipment, sound system, lighting, amusement rides or portable washrooms.
The installation of a tent that is 60 square metres or greater in area or has an occupant load of more than 60 persons.
An impact on traffic flow or road closures.
Food or beverages served or sold to the public.
Merchandise sales.
Amplified sound.
The distribution or sale of liquor.
The use of fireworks or other hazardous or risky materials or activities.
The use of live animals.
Any activities requiring public safety approvals.
Event Checklist
Will you require exclusive use of the site?
Will the impact on the site and surrounding areas be greater than the intended site use?
Will there be any tents larger than 60 square metres set up?
Will there be any temporary structures set up?
Will traffic flow be impacted?
Will road closures be required?
Will temporary power equipment be brought on site?
Will any food or beverages be sold or served to the public?
Will merchandise be sold for profit?
Will any food or product samples be distributed?
Will there be amplified sound?
Will access to power be required?
Will access to drinking (potable) water be required?
Will there be any water-based activities?
Will alcohol be served?
Will there be fireworks, pyrotechnics or fire performances?
Will there be any activities involving live animals?
If yes is answered to one or more of the questions in the checklist, an event is considered to be planned. The Information for Event Planners page provides information to help plan events and to complete the Event Application Form.
If yes is not answered to any of the event checklist questions, an Event Application Form is likely not needed to be completed.
The City has many venues that are available to rent for gatherings such as meetings and conventions, banquets, weddings, birthday parties and sport activities. Refer to the menu items on the left navigation bar for information on possible venues for your gathering.
Planning a Sustainable Event
There are many ways to reduce the environmental impact of events. It is important to plan ahead and to communicate goals with everyone that is involved in an event, including vendors, sponsors and exhibitors.
Richmond Sustainable Event Toolkit
The City of Richmond is committed to being a municipal leader in sustainable practices. To support event organizers in planning sustainable events, the City of Richmond has developed a
7 Step Quick Guide
and a
Sustainable Event Toolkit
.
Using the available resources will benefit events through the planning cycle, as well as improve the environmental, social and economic impacts events have on the community. Visit
Richmond Sustainable Event
for more information.
Report on Your Sustainable Event
Once an event is finished, complete the five minute survey, found here, identifying the sustainable features incorporated into the event. The more feedback received from the organizers, the more sustainable events will be in the future.
Sustainable Event Survey and Reward Program
Completing the City of Richmond's Sustainable Event Survey allows the City of Richmond to identify the sustainable features of all events. After reviewing the sustainable practices, event planners might be recognized as a Sustainable Event Champion!
Acknowledgements
The 7 Step Quick Guide along with the Toolkit are an initiative of the City of Richmond and the Richmond Olympic Oval in Partnership with the International Academy of Sport Science Technology/Academie Internationale des Sciences et Techniques du Sport (AISTS) in Lausanne, Switzerland.
Events on Private Property
Events taking place on private property must obey all laws and bylaws, and obtain all permits that are applicable to the event. If the event has any impact on City-owned or managed property, an
Event Application Form
must be completed. Cityowned or managed property includes parks, trails, buildings, sidewalks and streets.
Common City Permits and Bylaws that Apply to Events on Private Property
Event Aspect
Applicable Permit or Bylaw
Contact Information
Amplified Sound
Events must comply with the noise provisions in the City's Public Health Protection Bylaw No. 6989.
Vancouver Coastal Health (Richmond)
604-233-3147

Fireworks
A permit must be obtained from the Richmond Fire-Rescue Department. As regulated in Bylaw No. 7917, a person may not ignite, explode, set off or detonate fireworks without a Display Permit.
Richmond Fire Department (Non-Emergency Line)
604-278-5131

Live Animals
Approval must be obtained from City of Richmond for any domestic animals. Exotic animals are prohibited. Animals must comply with Bylaw 7932.
Vancouver Coastal Health (Richmond)
604-233-3147

Merchandise Sold for Profit
A City of Richmond Business Licence is required if the event includes the sale of merchandise.
Business Licence Section
604-276-4389

Temporary Food Permit
A Temporary Food Permit is required if food will be prepared, packaged and served to the public with the intention of immediate consumption.
Vancouver Coastal Health (Richmond)
604-233-3147

Temporary Food Market
A Temporary Food Market Permit is required for any Food Markets at events.
Vancouver Coastal Health (Richmond)
604-233-3147

Temporary Tents
A Temporary Tent Permit is required if a tent or a group of tents is 60 square metres or greater in area, or the occupant load of the tent exceeds 60 persons.
Building Approvals
604-276-4000
Facilities
Outdoor Sport Tournaments
Tournaments are defined as a gathering of people whose primary purpose is to allow several teams to compete against each other in a concentrated manner. If other aspects, such as food and beverage sales/services or the installation of an external infrastructure, supplement the tournament, it is considered to be an event and will require approval from Richmond's Event Approval Coordination Team (REACT). In this case, submit an Event application no later than 90 days prior to the event start date and no sooner than one year prior to the event start date.
If a tournament only consists of field rentals and a beer garden, complete and submit the following forms to the Events/Rentals Office:
Tournament Application Form
Special Occasion Licence Form

When permission is received from the City to serve alcohol at a tournament, a Liquor Licence through the Liquor Control Branch will be required as part of the Special Occasion Licence.
City Equipment Available to Rent
The City has several pieces of equipment available to rent for events. The details and associated fees are provided below.
Note:
he City does not have any other equipment available to rent including tables, chairs or small tents. Event Organizers must obtain this equipment from other suppliers.
Tap Water Stations
Two tap water stations are available to be booked for events. These are portable tap water units that connect straight to the City's water distribution system through an available connection point. Each station has two water fountains and three individual taps to refill reusable water containers.
The City of Richmond provides water stations free of charge, upon request, in an effort to encourage the use of reusable water containers and promote sustainable practice.

Contact the Events/Rentals Office at rentals@richmond.ca to request one or both stations.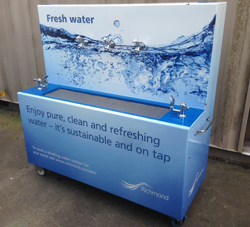 Garbage and Recycling Bins
Garbage and recycling bins are available to rent from the City's Environmental Programs Department, however a charge may apply. To rent, complete the online form a minimum of seven working days prior to the event
Rental Fees
Outdoor events taking place on grass or artificial turf sports fields and/or the Minoru Track are subject to rental fees.
For indoor events, contact the facility directly for the associated rental fees.

City Services
If services are required from the City, the fee associated is based on cost recovery for the services being provided. City services that are available for events include access to water and power, as well as garbage and recycling pickup. The fee for these services will be determined depending on the needs of the event.

Damage Deposits
A damage deposit may be required for events due to the increased potential for park damage. The amount requested will depend on the nature of the event, facility used, location, activities being planned, and previous event history. Damage deposits typically range from $200 to $5,000 and are to be paid 14 days prior to the set up date of the event.

Any damages caused as a result of the event are the responsibility of the Event Organizer. Any required repairs, clean up or restoration will be charged to the Event Organizer. In the case where the damage deposit is insufficient to cover the costs associated, the Event Organizer will be invoiced for the balance.

The City will assess the site as soon as possible after the take down of the event.

Deposits will be refunded upon completion of the event activities, inspection by City staff and final approval by the Manager, Sports and Community Events.

Contacts