Collection Schedule
The following map and schedule apply to single-family and townhomes with curbside collection. When placing items out for collection, please ensure they are not impeding access to the sidewalk. Use the map below to find out specific garbage and recycling collection zones.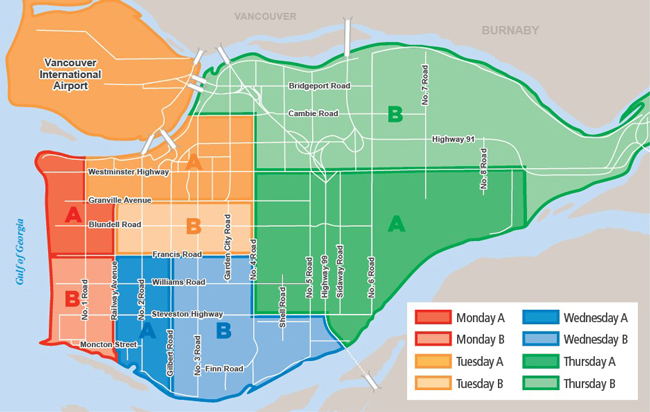 Sign-Up for Free Reminders for Recycling and Garbage Collection
Residents in single-family homes and townhomes with curbside collection can sign-up for free recycling and garbage pick up day reminders by email, text message or phone call. This tool is simple and easy to use, just enter your address below and select "Search."
Helpful Links and Resources
All 2023 Calendars include January 2024
To report a missed collection, call 604-276-4010 or email Garbage and Recycling
Residents of multi-family and large town-house complexes should ask their property managers about pick-up schedules.
Garbage, recycling and food scraps and yard trimmings collection could be affected due to road construction activities.