Richmond Green Ambassadors Program
The Richmond Green Ambassadors (RGA) program is coordinated by the City of Richmond in partnership with the Richmond School District and provides networking and volunteering opportunities for secondary school green teams across Richmond and other like-minded youth.
Benefits
Engage, educate, and empower the community through outreach opportunities
Develop expertise on City sustainability initiatives
Opportunities for valuable teamwork and leadership experiences
Volunteer hours to meet graduation or post-secondary requirements
Personal growth
Certificate of Appreciation presented by the Mayor of Richmond upon graduating Grade 12 (minimum: 15 volunteer hours)
How to Join
Interested in Joining?
The Richmond Green Ambassadors is a youth program for secondary students (grades 8-12) interested in environmental sustainability through community engagement.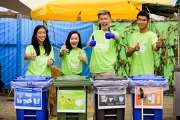 If you are a secondary student in Richmond and would like more information on joining the RGA program please contact us at esoutreach@richmond.ca.
Steps to become a Richmond Green Ambassador
Follow the 4 easy steps below to become a Green Ambassador:
Connect with your secondary school green team
Register an ICanHelp account at https://icanhelp.richmond.ca
When filling in the online form, under "Preferred Volunteer Placement" please select "Environmental Programs"
Complete the following forms:
Attend a New RGA Orientation
Volunteer Opportunities
Secondary students in Richmond can get involved with the Green Ambassadors through a variety of opportunities. It is encouraged to begin active involvement in a designated secondary school green team, then connecting with the community through our program outreach opportunities
Program
Description
Symposiums
Network monthly during the school year with other Richmond Secondary school green teams. Learn to critically think and present on engaging environmental topics.
Special Events
Develop communication and problem-solving skills by educating the public on proper recycling at City special events. Manage waste stations and experience teamwork, growth, and leadership opportunities. Various events throughout the year with the majority taking place in the summer.

Invasive Plant Pulls
Participate in the Partners for Beautification Program
Assist in removing invasive species, training and safety equipment provided.

Seasonal and weather dependent.
Richmond Earth Day Youth (REaDY) Summit
Build leadership skills and inspire a younger generation of environmental stewards in this youth-led conference held annually in April. Range of roles and commitment levels available.

REaDY Summit is organized in partnership with the City of Richmond, Richmond School District, and David Suzuki Foundation.

For more information visit here.
Website: readysummit.ca
Facebook: www.facebook.com/readysummit
Twitter: @readysummit
Other Community Outreach
Additional opportunities to interact and engage with the public through the City.
How It All Began
In anticipation of the Richmond O Zone celebrations during the 2010 Olympic Winter Games, the Richmond Green Ambassadors was formed to provide waste education and recycling support. It quickly became evident that these empowered youth could add tremendous value to the community and the program was expanded with year-round educational and volunteering opportunities. Since then the Richmond Green Ambassadors program has grown to become the leading group for youth environmental stewardship in the City of Richmond. In 2018, there were 145 Green Ambassadors and 8 secondary schools involved in the program.
Secondary Schools in the RGA program:
Burnett
Cambie
MacNeill
McMath
McNair
McRoberts
Richmond High
Palmer
Steveston-London
Community Recognition
Proudly representing the City of Richmond in their community outreach, the Richmond Green Ambassadors are a special group of youth recognized as valuable contributors to their schools and City. The Richmond Green Ambassadors were recipients of the UROC awards in 2013 and 2014, recognized as Unsung Heroes by SWANA in 2014, and awarded first place for their work with the Richmond Earth Day Youth (REaDY) Summit in 2015 in the LSF/RBC Our Canada Project competition.
Richmond Green Ambassadors Experience
Find out what Richmond Green Ambassadors have to say about their experiences in the RGA program:
"I was eager to join and meet others with the same interests, learn more about the environment and make an impact in our community."
"I volunteered many hours at the Richmond World Festival, Richmond Maritime Festival, Ships to Shore, and many more events."
"I learned about everything green!"
"My most memorable experience with Green Ambassadors was my first time participating and planning in the annual Richmond Earth Day Youth Summit. I had a lot of fun meeting new people and seeing how it can be created and executed by a team of youth who are just passionate about our environment."
"I learned how to be a leader in my own community."


Helpful Links & Resources