Richmond Nature Park
Nature House & Park Hours
Nature House: 9:00am-5:00pm, admission by donation
Nature Park Trails: Open from dawn until dusk
Holiday closures: Nov 11, Dec 25, 26 and Jan 1
Self-Guided Nature Walk Brochure

Park Usage Guidelines
The park is a very fragile environment. Note the following:
Dogs and other pets are not permitted and visitors are requested to remain on the marked trails.

No plants, plant parts or animals may be removed from the park.
For personal safety and the health and safety of wildlife, do not attempt to feed the animals.


Nature Park
The Richmond Nature Park consists of 200 acres of the raised peat bog habitat that once covered large portions of Lulu Island. Four walking trails totalling 5 kilometres provide visitors the chance to encounter plants and animals in bog, forest and pond habitats. The shortest trail, an elevated boardwalk around the park pond, is wheelchair accessible. All other trails are soft-surfaced with wood chips and are well-marked. A free trail guide is available in the Nature House. The park is always changing. In spring, visitors can see and hear the territorial fights of hummingbirds as bog flowers bloom below. Summer days are long and the trails are ideal for an evening stroll. Autumn brings owls, northern migratory birds and spectacularly coloured foliage. In winter, visitors can hear varied thrushes and see winter birds at the feeders or follow animal tracks in the snow.
Nature House
This interpretive centre located at the Nature Park entrance features interactive displays and games about the park, the bog and other aspects of nature. There are activity kits, an active beehive, a small collection of live animals and a gift shop.
The Nature House is open daily and an on-site naturalist is available to answer questions about nature throughout Richmond.
Hydrogeological and Biophysical Assessment
In late summer 2023, a qualified environmental consultant completed a two-year hydrogeological and biophysical assessment of the Richmond Nature Park. This study was considered an update to the 2008 Lulu Island Bog report by Davis and Klinkenberg. Its objectives were as follows:
Hydrogelogical and Biophysical Assessment Objectives
To provide an improved understanding of surface and groundwater systems, including seasonal and longer term changes driven by climate change and bog succession, and how these will affect the bog ecosystem
To provide an improved understanding of the current bog ecosystem, including its health, extents and long-term viability
To provide an improved understanding of current flora and fauna, including their distributions and the presence and effect of invasive species
To provide recommendations for long-term planning in order to preserve a healthy bog ecosystem
City staff are currently reviewing the findings of this comprehensive report to determine how they can inform future planning and management efforts. For any questions about this study, please email parks@richmond.ca or call 604-244-1208.
Nature Park Educational Programs
The Nature Park offers a variety of School and Home Learners Programs in addition to public recreation programs. Use the drop down arrow below to learn more about our offerings this season.
School and Home Learners Programs
All About Autumn – In-Person Park Program
Limited space
Discover the subtle signs of autumn in the park with a naturalist-led guided walk covering touch, scent, sound and sight and a visit to the Nature House. This is an out trip for preschoolers, primary or intermediate students and teachers.
September – November
Wed & Fri: 9:30am, 11:00am and 1:00pm
Preschool: 1 hour
Elementary/Intermediate: 75 minutes
$95/class (maximum 24 students and a teacher)

Wildlife in Your Classroom – Virtual School Program
Learn about wildlife with interactive presentations that include activities, demonstrations, taxidermy, multimedia visuals and a Q&A session with the naturalist, if time permits.
November – December
Tue: 9:00am, 10:15am, 11:30am and 1:15pm
Thu: 9:15am, 10:30am, 11:45am and 1:30pm
Kindergarten-Grade 4: 45 minutes
$85/class (maximum 24 students and a teacher)
Technology and Equipment requirements:
A strong internet connection and access to a video/sound system is required. It's recommended your laptop is connected to a smartboard or a projector and that speakers are enabled to provide an optimal experience.
Platform:
Zoom


Contact the Richmond Nature Park at
604-238-6188
or
nature@richmond.ca
for details.
3 Ways to Register
Select the BROWSE & REGISTER button below
604-276-4300 Mon-Fri, 8:30am-5:00pm
In-person at any community facility. Note: Debit, cheque and cash are also accepted when registering in person.
Become a Volunteer
Volunteers play an important role at the Nature Park assisting with educational programs, special events and park operations. Volunteer birdwatchers and botanists add to bio-inventory databases. For Nature Park volunteering opportunities see below or check out the Volunteer Richmond website. Volunteers must be 15 years or older.
Project Feeder Watch
Volunteers monitor and record the variety of bird species found at the outdoor bird feeding stations at the Nature Park from November to April. No birding experience required.
Volunteers 15 years and older can assist in environmental programs during winter, spring and summer break. If you are interested in working in childcare, education, recreation and show an interest in biology, ecology, geography or environmental science, this opportunity provides valuable experience. Call the Nature House at 604-238-6188 for more information.
Special Events Volunteers
Volunteers 15 years and older can assist with various activities at special events happening throughout the year. Volunteer activities can include greeting visitors, conducting visitor counts, supervising the parking lot, face painting, craft activities, games, becoming a Nature Park mascot in costume and set-up and take-down. Call the Nature House at 604-238-6188 for more information.
Community Facilities Programmer: Richard Kenny
Community Facilities Coordinator: Angela Soon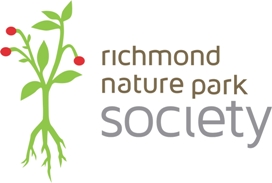 Richmond Nature Park Society
The Richmond Nature Park Society commits to contribute to building a community that values nature through appreciation, education and conservation.
The Richmond Nature Park Society works with the City to deliver programs and events at the Nature Park. To become a Board or Committee member, or to assist with society programs, call the Richmond Nature Park at 604-238-6188 or email nature@richmond.ca.
Richmond Nature Park Society Executives
President: Brenda Bartley-Smith
Secretary: James Greenhalgh
Treasurer: Andy Wu
Director: Lori Bartley
Director: Elmir Ismayilov
Director: Atul Parelkar
Director: Patrick Wong
Director: Reinaldo Cheng
---

For additional Richmond Nature Park information click on the links below: