Public Works

Connecting the World through Public Works
National Public Works Week - May 21 - 27, 2023
Public Works is responsible for the "hidden" services that are essential to Richmond residents and businesses. Many of the services we rely on in our every day lives are out of sight or go unnoticed yet they are operating 24-hours a day, seven days week. Public Works staff maintain fire hydrants, roadways, watermains, street lights, drainage, litter collection, pump stations and more. These services are the foundation of an appealing, livable and well-managed community.
Interactive Video
Explore this interactive tool that provides a great starting point for learning more about Public Works activities in our City.

Watch the interactive video in a new window

Activities for Kids
Be sure to download all of our fun activities for kids:
Crossword
Road trip bingo
Contact Information
The Engineering & Public Works Division works closely with all departments to achieve Richmond's vision to be the most appealing, livable and well managed community in Canada.
Qualified staff are on call 24-hours a day to respond to service problems. If you have questions about our services or to report problems call:
Non-emergency Service Centre line during business hours at 604-244-1262
24 hour emergency Dispatcher at 604-270-8721
To request inspections for servicing agreements and damage deposits, complete an online request. You may also refer to the contacts section of this website.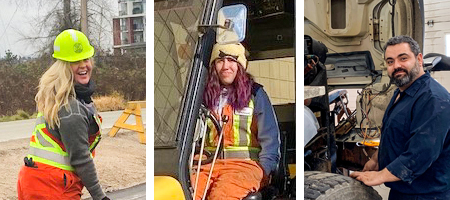 Public Works Maps and Publications
The Engineering and Public Works Division has maps and publications available to the public at the Information Counter at City Hall, 6911 No. 3 Road at Granville Avenue.
For a list of City Publications and pricing, please visit City Publications for Sale.
To order maps, call 604-247-4639 or email mapinfo@richmond.ca.