Rain Barrel Program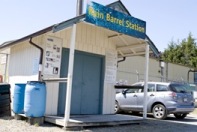 The City of Richmond encourages residents to conserve water and be environmentally sustainable through our rain barrel program. Rain barrels are used to collect and store water for outdoor usage such as watering your garden, washing outside surfaces and washing your car. Using rainwater will reduce the amount of tap water you use, therefore, saving money on your utility bill. Other benefits include:
decreasing water demand during peak summer months and using it as a backup water source for outdoor usage during times of drought,
decreasing the strain on water treatment facilities and municipal drainage systems during storms,
reducing the amount of water entering the sewerage treatment facility,
maintaining healthy plants and lawn because rainwater is chlorine-free, and
preventing drainage problems around your home's foundation.
Where can I purchase a rain barrel?
Rain barrels are available at the City of Richmond Recycle Depot for $30.00. Installation instructions for the high-quality SYSTERN rain barrel are included.
The SYSTERN rain barrel features:
Unique shape and neutral colour suitable for any home and garden
208 litre (55 gallon) capacity
Mosquito mesh keeps out bugs and leaves
BPA free
Made from recycled content
UV stabilizer is added to resist deterioration from sunlight
Overflow hose can be linked to another SYSTERN or can be directed away from the house
Richmond Recycling Depot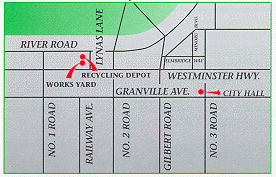 Phone: 604-276-4010
Address:
5555 Lynas Lane
Richmond BC

Operating Hours:
Seven days a week
9:00 a.m. to 6:15 p.m.
(closed statutory holidays)
For more information, visit our Richmond Recycling Depot page.