About Waterfront Activities
Experience and celebrate the vibrancy, excitement and natural beauty of Richmond's waterfront. Surrounded by the rich and productive Fraser River, there are multiple destinations, landmarks, daily and seasonal activities and special events to enjoy along the water's edge. From the Richmond Olympic Oval to the historic and present day fishing harbour of Steveston Village, there is something for everyone.
Richmond is a community that celebrates its rich past and recognizes the full potential of its island legacy—a dynamic, productive and sustainable world class waterfront.

Signature Waterfront Parks
Enjoy spectacular waterfront views, gorgeous gardens and diverse play areas. Discover the beauty and fun for yourself!
**Important reminder:
While you may have the urge to cool off in the river on a hot, summer day, be aware that there are NO lifeguards at any of Richmond's waterfront parks. The Fraser River is a fast moving body of water, with a very strong current / undertow and it is unsafe for swimming.
Signature Waterfront Trails
Richmond's off-road recreational trails provide access to the city's major natural areas. Perfect for walking or cycling, the trail system connects around the perimeter of Richmond. Take an afternoon ride around the entire island (47.5 km) to see all the spectacular views. Allow for two hours and 45 minutes if cycling or take advantage of these popular routes that vary in distance and difficulty.
Scenic Route Maps & Points of Interest
Click on the links below to download scenic waterfront route maps.
Steveston Village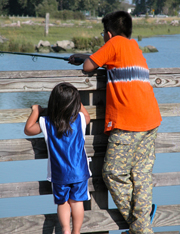 Steveston is located at the mouth of the South Arm of the Fraser River and the Pacific Ocean. With its working harbour, historic fishing village, festivals and beautiful riverfront setting, it is a key visitor destination for the region. It is older than the city of Richmond and retains much of its original charm. The village retains an historic atmosphere, while also offering a wide variety of upscale shops and restaurants. Watch sea otters in the harbour, visit the museum and purchase fresh seafood and fish off the boats docked at the landing.

City Centre Middle Arm Waterfront
Home to the Richmond Olympic Oval and UBC Lecky Boathouse, this is the city's most urban waterfront. Two new piers, a range and variety of seating opportunities, accessible play areas for children, public art and lush native plantings make this a unique destination. This city centre waterfront is rapidly transforming and each year more amenities and interesting features are being added.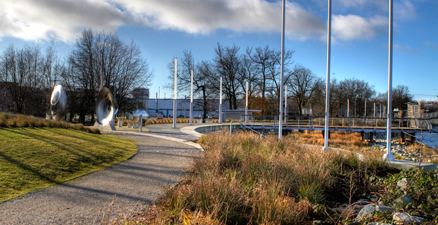 Richmond Olympic Oval Riverside Plaza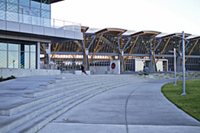 The Richmond Olympic Oval is a breathtaking venue on the banks of the Fraser River and winner of the Institution of Structural Engineers top award for Sports or Leisure Structures. The Riverside Plaza is Richmond's premier outdoor assembly space and was designed as a festival place to accommodate up to 8,000 people.


Special Events
Many exciting programs and events take place on the water. Check out the section below to learn more!
Steveston Salmon Festival
The Steveston Salmon Festival is one of the largest non-profit Canada Day celebrations in Canada. For over 60 years, residents have paid homage to Steveston's salmon empire. The citizens of Steveston host "Canada's biggest little birthday party' each year. Visit the
Steveston Salmon Festival
for more details.
Richmond Maritime Festival
UBC Boathouse Rowing
The John M.S. Lecky UBC Boathouse is home to the UBC Men's and Women's Varsity and Novice rowing teams, St. George's school rowing programs, and the Thunder Rowing Crew programs (TRC). The TRC programs include learn to row and competitive Junior athletes. The UBC Boathouse is also proud to offer a Coach In Training program.
Public programs offered include:
Picturesque Viewing Spots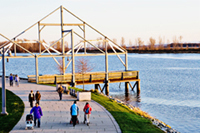 If your time in the city is limited, here are six easy-to-access areas that are scenic and uplifting. With fresh air, great views and spectacular sunsets, you'll want to return to these locations over and over again.
West Dyke Trail Head at Terra Nova Rural Park—view the river, estuary and wildlife
Middle Arm Waterfront Park—view the North Shore mountains and Gulf Islands
Garry Point Park—view the beaches, ships, fishing boats, ocean wildlife
Imperial Landing Park—view harbour activity, Steveston Village activities and wildlife
Iona Beach Regional Park—view the ocean, mudflats and mountains
Flight Path Park—view planes swooshing overhead