Geocaching
"The City of Richmond GeoTour is the first Official GeoTour of a Canadian City on geocaching.com."
What is Geocaching?
Geocaching is an outdoor treasure hunting game that uses a smartphone or GPS device. Participants navigate to a specific set of GPS coordinates to find the prize - a hidden geocache container. Did you know that there are over 7 million geocachers worldwide and 3 million active geocaches?

The Richmond GeoTour: "Canada 150 Series" features 20 geocaches in locations throughout Richmond along with a new passport. Log all 20 new caches with their secret words, and submit your passport to earn a trackable Geo-Coin or Geo-Tag.

Adventure Labs
Check out the two new Adventure Labs in Richmond!

The Geocaching Adventure Lab is an app that allows users to compete in engaging scavenger hunts. Adventure Labs differ from traditional geocaching in that they don't feature physical cache containers, just pure virtual exploration, problem-solving and fun. Some creators (like us) will add on a physical bonus cache with clues on how to find it.
Play at Terra Nova Park: Richmond GeoTour Terra Nova Adventure Lab
Play in the Richmond Nature House: Richmond GeoTour Nature House Mini Adventure
What is the Richmond GeoTour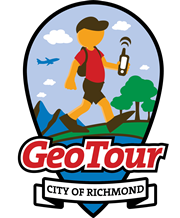 The Richmond GeoTour is a series of 50 hidden geocaches in parks, on trails, and at community facilities. On quests, explore the Island city and discover Richmond's unique natural and cultural heritage. Find all caches in each of the series to receive a prize.

Complete the "Geo-Quest" series of 30*
Complete the "Canada 150" series of 20
*It's recommended to complete the "Geo-Quest" series first.
Get Going!
Learn about Geocaching using the Geocaching 101 section at www.geocaching.com.
Sign up for a free geocaching account at www.geocaching.com.
Download your GeoTour passport from this webpage, or pick up a copy from the Richmond Nature Park.
Use a GPS device or smart phone and the clues provided on www.geocaching.com to search for GeoTour geocaches.
Please respect the flora and fauna. Please tread lightly!
Record your finds online and in the geocache log books. Some geocaches will contain tradable objects. If you remove something from the cache, replace it with something of equal value.
Hide the geocache exactly where you found it and move on to the next one!
Share your experiences with the geocaching community.
Collect the secret words as you find each geocache.
When complete, redeem your passport to claim prize.
There is a different prize for the "Geo-Quest" series and the "Canada 150" series.
How to Claim Your Trackable Tag
Bring completed passports to:
Richmond Nature Park
11851 Westminster Hwy
Richmond, BC V6X 1B4
Phone: 604-238-6188
Hours: Mon-Sun: 9:00am-5:00pm
If unable to visit the Richmond Nature Park, scan and email passports to geocaching@richmond.ca and to have one mailed.

The Canada 150 Geo-Coins have all been claimed but Canada 150 trackable Geo-Tags are available as an alternative!

Email geocaching@richmond.ca with any City of Richmond GeoTour questions or comments

Enjoy your geocaching tour of Richmond!

Terms and Conditions
The City of Richmond GeoTour Geo-Coins and travel tags are awarded in the order received, while supplies last. Only one prize awarded per geocaching username each series. The City of Richmond reserves the right to limit or revoke this offer at any time. Additional terms and conditions may apply.