City Hall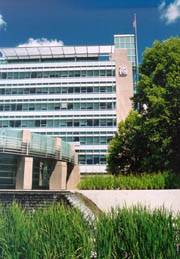 A decade-long vision was realized when the new Richmond City Hall was officially opened on Saturday, May 20, 2000 with a public open house attended by more than 10,000 residents.
The award-winning City Hall opened on time and on budget. More than just a working City Hall, the new facility also incorporates the Meeting House wing, which houses a variety of multi-purpose rooms and open spaces available for rental for diverse public and private events and activities. A large civic plaza with outdoor stage and extensive gardens and other landscaping features also contribute to the welcoming environment which makes the new City Hall a focal point of Richmond's evolving civic centre.
The innovative Front of House section clusters representatives from key City departments, providing "one-stop shopping" for most people doing business at City Hall. Advanced technology and energy efficient and environmentally-sensitive design ensure that the new City Hall will fulfil the City's customer service needs well into the 21st century.
Richmond City Hall is located at:
6911 No. 3 Road, Richmond, British Columbia, V6Y 2C1
Hours of Operation:
8:15am to 5:00pm, Monday to Friday. Tel: 604-276-4000
Richmond City Hall is fully accessible for wheelchairs.