Councillor Bill McNulty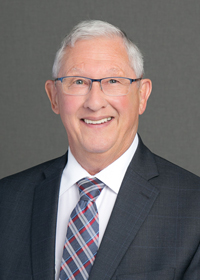 A long-time Richmond resident, Bill McNulty has served continuously on Richmond City Council since 1993. A results-oriented individual, he is a staunch advocate for keeping Richmond a safe, welcoming and inclusive community.
Well-known as an active volunteer whose work has helped make a difference in the lives of others, his experience as a coach and sports administrator led him to become a Founder and subsequent Life Member of the Richmond Sports Council. Bill is also a published author who is passionate about preserving local history, as revealed in his three books on Steveston and Richmond.
A former educator, Bill served over three decades on the Academic Senate of the University of British Columbia. A Rotarian for over thirty years, he works tirelessly to serve and build connections in his community.
Bill McNulty's commitment to excellence in infrastructure is evident by his support at City Council of developing new aquatic and seniors' centres in Richmond and community centres in Steveston and downtown north. His support for affordable rental housing in Richmond is acknowledged by his council initiative to build all housing developments with a required percentage of low-income rental units. His campaign to upgrade health services to meet the growing community's current and future needs continues as the redevelopment of the Richmond Hospital takes shape, providing a new Cancer Care Clinic, Medical Imaging Centre, and a nine-floor acute care tower.
Bill has been recognized both provincially and nationally for his dedication and achievements. In 2005, he was presented the British Columbia Community Achievement Award. In 2012, he was awarded the Queen Elizabeth II Diamond Jubilee Medal and also received the Queen Elizabeth II Platinum Jubilee Pin in 2022.

Bill continues to serve his community tirelessly. He represents Richmond as the Second Director on the Metro Vancouver Board of Directors. He also serves as a Member of the Metro Vancouver Housing Committee, Climate Action Committee, and Flood Resiliency Committee. He has been on the Board of Emergency Communications for B.C., E-Comm (911), for 14 years, and is Chair of Richmond's Community Planning Committee and is a member of several Standing Committees of Council including General Purposes, Finance, Safety, and Parks, Recreation and Cultural Services.

A Life Member of the Richmond Women's Resource Centre and the Richmond Arts Coalition, and Richmond Arts Connection, Bill served on the Richmond Library Board for many years and is a strong advocate and builder of the library system in Richmond. He continues to be the City Council liaison to numerous advisory committees, organizations, and community associations including the Richmond Sports Council, Steveston Historic Sites Building Committee, Richmond Community Services Advisory Committee, Richmond Intercultural Advisory Committee, and the South Arm Community Association.
Bill McNulty is committed to accountability, transparency and honesty in local government. He is always available to the community and welcomes public input.
Contact Information
Email:bmcnulty@richmond.ca
Phone: 604-276-4134
To contact the Mayor's Office or the Councillor's Office see City Contacts.