Councillor Carol Day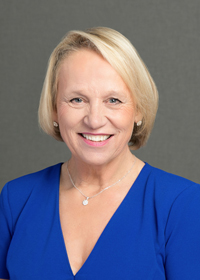 A lifelong Richmond resident, Carol Day is dedicated to her community. She has owned and operated her sign business here for 37 years. She has also been a community activist for 20 years, listening to the people and working to achieve results.
Carol was previously a Richmond school trustee, and brings that same commitment to City Council. She was the founder of VAPOR to reduce environmental jet fuel risks; and CALMR for an acceptable Lingyen Temple expansion. As a former director of the Garden City Lands Conservation Society, Carol worked to protect the Garden City Lands and other natural legacies. Carol is married with three grown children and is a fulltime Councillor.
She is a member of Council's committees for Parks, Recreation and Cultural Services; Finance; and General Purposes. She is Council's representative on the BC Aviation Council and Council alternate representative on the Steveston Harbour Authority Board.
Carol is a Council Liaison to the following: Advisory Committee on the Environment; the Richmond Family and Youth Court Committee; the Richmond Nature Park Society; the Richmond Art Gallery Association; the South Arm Community Association; the Gulf of Georgia Cannery Society; and Chair of the Major Events Advisory Group.
Carol's objectives including advocating for smart development projects that enhance neighbourhoods, supporting the viability of farming, promoting cultural harmony, creating attainable home ownership options and affordable rental housing options and improving communication between the City and the public.
As an entrepreneur, businesswoman and taxpayer, Carol will work to ensure that citizens receive good value from the City for their hard-earned tax money, and that this goal is first and foremost in regard to Council decisions.

Carol is passionate about Richmond and will work with all levels of government to advocate for Richmond. Whether it is protecting farm land, trimming the budget or working with neighbourhood groups to have their issues heard at the city she believes everyone has a voice.
Carol wants to be accountable to the public. You can contact her by email or phone.
Contact Information
Email: Carol.Day@richmond.ca
Phone: 604-240-1986
To contact the Mayor's Office or the Councillor's Office see City Contacts.