Inclusion
The City of Richmond strives to be a welcoming and inclusive community for all who live, work and visit Richmond. Our goal is to ensure that Richmond residents and community members are able to participate in various aspects of community life regardless of income, ability, sexual orientation, gender identity or expression, age, race, or residency status in Canada.
Visit the following sections to learn more about the City's role in Inclusion: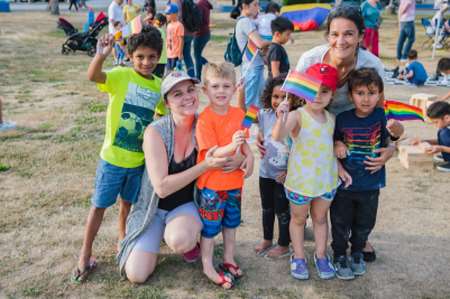 The City of Richmond is actively involved in building cultural harmony in the community. The City's Cultural Harmony Plan guides our approach in enhancing cultural harmony among Richmond's diverse population.
Richmond's newcomer communities contribute significantly to community vibrancy and enrichment, which makes it a great place to live, learn, work and play. If you are new to Richmond or planning your move, get started here.
Pride Week in Richmond is a celebration of members of the Two-Spirit, lesbian, gay, bisexual, transgender, queer, intersex and gender diverse (2SLGBTQI+) communities in our city. Happening annually starting the last Monday of July, Pride Week features inclusive events and interactive activities with local leaders, artists, performers and community members.
This free, annual conference takes place in October and focuses on sharing best practices in creating diverse and inclusive communities. It is an educational and networking event intended for staff and community leaders looking to advance diversity, equity and inclusion in Richmond.
The City of Richmond is committed to advancing anti-racism in our community.

Celebrating Cultural Diversity and Inclusion
The City and community partners open their doors annually to the public to explore over 40 sites across the city, including museums, places of worship, green spaces, fire halls and many more, through the Doors Open event. This popular event helps to create cross-cultural understanding for community members of all ages.
Contact
Planner 2 (Inclusion)
Community Social Development
604-276-4104