Pathways Clubhouse Affordable Housing
Providing Much-Needed Affordable Rental Housing in Richmond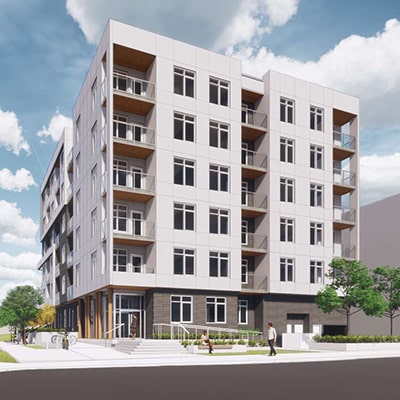 The City of Richmond, Pathways Clubhouse, and BC Housing are partnering to build new, affordable rental housing at 5491 No. 2 Road. The proposed project is a six-storey building with 80 new homes for single people, families and seniors. Rental rates are proposed to be set to accommodate both low-income and moderate-income households.
Serving the Community for 35 years
The building will be operated by Pathways Clubhouse, a Richmond-based non-profit housing and service organization that has been offering community-based services to Richmond residents since 1984.
Engaging the Community
In August and September 2019, the City and Pathways Clubhouse engaged with the local community to present the proposed project and listen to feedback. Community input will help inform City Council's review of the development permit application for the project.
On September 11, 2019, project partners held a community open house at Thompson Community Centre. To learn more about the development, please review the display boards from that event.
Timeline
The City of Richmond designated and zoned the site at 5491 No. 2 Road for affordable housing. The project is currently in the planning stage of development and no applications are being accepted at this time.
Contact
For more information, please contact:
Oren Newson

Acting Manager, Affordable Housing Phone:
604-204-8648
Email:
Oren.Newson@richmond.ca