Anti-Racism
Richmond is committed to advancing anti-racism in our community. The City participates in community initiatives that develop and implement responsive action against incidents of racism, as outlined in the City's Cultural Harmony Plan. The City's ongoing efforts include the following initiatives.


Hate Has No Place
Collaborators: City of Richmond and Richmond RCMP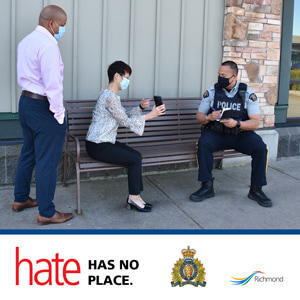 Working together to ensure that Richmond continues to be a safe and welcoming community, the 'Hate Has No Place' campaign calls on victims and witnesses to report racially motivated incidents directly to police as they occur.
If you've been the victim of a racially motivated incident or have witnessed one, seek help and call the police.
Call 9-1-1 for an act in progress.

If it is not an emergency, call the Richmond RCMP non-emergency line at 604-278-1212

If you wish to remain anonymous, call Crime Stoppers at 1-800-222-TIPS (8477) or visit SolveCrime.ca.


Richmond Community Protocol: Responding to Racism and Hate
In 2023, the City endorsed the 'Richmond Community Protocol: Responding to Racism and Hate,' which is designed to help organizations, residents, and community members react promptly and effectively whenever critical incidents of racism, hate crime or related incidents occur.

Learn more: Richmond Community Protocol


Aspire | Build | Celebrate (ABC) Program
Collaborators: City of Richmond and Richmond Multicultural Community Services (RMCS)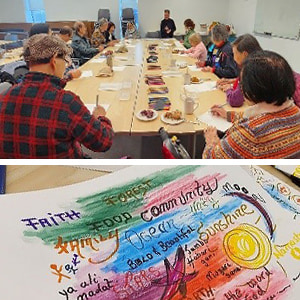 Working together to encourage intergenerational and intercultural dialogue on multiculturalism, diversity, and anti-racism through the arts, the ABC program brings together youth and seniors in Richmond to share their cultures, traditions and unique perspectives to support action against racism and build a stronger community.

Follow for program highlights:
Aspire | Build | Celebrate blog


Additional Resources