Collection


Gu Xiong, "Cafeteria #3" (detail), Silkscreen on paper
Collection Mandate
The Richmond Art Gallery, on behalf of the City of Richmond, will collect and maintain works of art by artists from Richmond, the Greater Vancouver area, and to a limited extent, Canada and beyond. The work in the collection should reflect the past, present, and future of artistic production in Richmond and British Columbia, and the diversity of the Richmond community.

Explore the Permanent Collection
History
Richmond Art Gallery's permanent collection contains nearly 300 works of art in a variety of media, with the majority of the works collected from the start of the Gallery in 1982 until 2000. Most works were donated by artists exhibiting at the Gallery, while others were purchased by the Gallery or donated by members of the community. In the RAG's early years exhibitions changed bi-weekly and the permanent collection grew rapidly in the 1980s and 1990s. After the year 2000, as the Gallery's mandate evolved and the nature of the exhibitions changed, the Gallery ceased to actively collect works. However, in 2021 RAG formed a Collections Committee aimed at developing the permanent collection and to once again accept donations from exhibiting artists.
Artists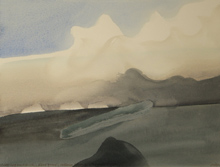 Tony Onley, "Drift Log and Rock,
East Point Saturna", Watercolour
The majority of artists in the permanent collection are from the Lower Mainland. The permanent collection includes works by celebrated artists such as Greg Girard, Toni Onley, Anna Wong, Jack Shadbolt, Gordon Smith, Irene Hoffar Reid, Wayne Ngan and William P. Weston. The Collection also includes works by Indigenous artists including Bill Reid, Susan Point, Doug Cranmer as well as a small number of works by Chinese artists. These include two ink on paper paintings by Ho Chat Yuen, a great master of the Lignan School of painting.
Exhibitions
In the last ten years the gallery has featured the permanent collection in two exhibitions. Beyond the Horizon in 2017 featured 20 landscape works from the collection presented alongside a series of new works developed in response by students from the Richmond Art Gallery's Youth Mentorship Program. To celebrate the gallery's 40th Anniversary in 2020 the exhibition Selected Stories: 1980 – 2020 was shown, highlighting the permanent collection. This exhibition focused on the history of the gallery and how this history is reflected in the permanent collection.
Explore the Permanent Collection