Utility Rates
Your Utility Bill

Property owners in the City of Richmond are issued utility bills annually or quarterly depending on the water service for the home.

Rates are set annually based on Metro Vancouver service fees and City of Richmond costs associated with municipal infrastructure operation, maintenance and renewal. Utilities include water, sewer, solid waste and recycling, and flood protection.

The following charts depict the breakdown of your water and sewer utility bill: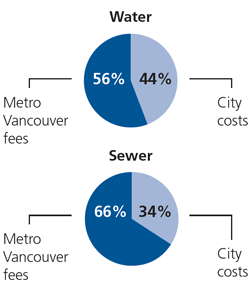 Average Metered Cost for City Utility Services
Property owners qualify for a 10% discount if payment is received on or before the billing due date.
The discounted cost for a typical single-family metered residence with average water consumptions and a standard garbage cart are:
| Service | Cost Per Year | Cost Per Day |
| --- | --- | --- |
| Water | $509 | $1.39 |
| Sewer | $507 | $1.39 |
| Garbage, Recycling, & Environmental Programs | $414 | $1.13 |
| Flood Protection | $224 | $0.61 |
| Total | $1,654 | $4.52 |
Metered Utility Rates (per cubic meter with early payment discount)
Water $1.43
Sewer $1.56
(Sewer fees are based on metered water use.)
Meter Maintenance:
connection 1" or less $10.80
connection greater than 1" $12.60
Water Supply

Metro Vancouver delivers water to Richmond from three reservoirs located in the North Shore Mountains. The City distributes the water to businesses and residents through 634 kilometres of infrastructure. The City has allocated $10.5 million annually for the replacement of water infrastructure.
Water rates rise due to cost of living increases and Metro Vancouver's water rate increases.
Water Metering Program
Water meters allow property owners to be charged fairly and equitably for water use and will reduce overall water consumption throughout the City. Through the water metering program, property owners can take control of their water and sewer bills by paying only for the actual amount of water that they use.
All single-family residential, industrial and commercial water use is already metered. The City is currently implementing mandatory metering of multi-family complexes, and all multi-family complexes will have water meters installed over the next 20 years.
Existing apartments and townhouses can continue to apply to the City to switch to metered service ahead of schedule through the Volunteer Multi-Family Water Meter Program. A typical multi-family complex can save approximately 48% in water and sewer costs by switching to metered service.

All participants who switch to metered service will also receive the following benefits:
Subsidized installation cost: The City will subsidize the installation cost of the water meters.
Five-year guarantee: The City offers a Five-Year Guarantee that provides an adaptation period for the water meter. During this time, you are eligible to apply for a credit if your metered bill exceeds the flat rate amount.
Water conservation devices: The City offers free water conservation devices such as low flow showerheads for all properties with a water meter.
For more information, visit www.richmond.ca/savewater or contact savewater@richmond.ca.
Water Conservation
The City pays Metro Vancouver for bulk water based on how much we use. By consuming less water, Richmond pays less. You can reduce water consumption by retrofitting existing appliances with low-flow showerheads, faucet aerators and pop flush devices.
Examples of Water Conservation
Rain barrels
Rain barrels can be used to collect rainwater for watering plants, gardens, lawns, and washing outside surfaces. They are available for purchase at the City's Recycling Depot (5555 Lynas Lane).
Water conservation devices
Low flow showerheads and faucet aerators can be used in the kitchen and bathroom. Pop-flush devices can reduce toilet water use. These items can be found at local hardware stores.
Toilet rebate program
Toilets account for 26% of indoor water use and upgrading to low-flow toilets can save up to 70 litres of water per person per day. The City provides a $100 utility account rebate to property owners who install a low-flush toilet. For more information on water conservation and the City's toilet rebate program, call 604-276-4179 or visit www.richmond.ca/savewater.
Sewage Collection and Treatment
The City's infrastructure directs sewage to the Metro Vancouver owned and operated Lulu Island and Annacis Island sewage treatment plants. The City maintains 569 km of sewer mains and 153 pump stations. The City has allocated $6.3 million annually for the replacement of sanitary infrastructure.

In 2023, the City will pay Metro Vancouver $31.2 million for the bulk collection and treatment of sewage.
Recycling and Solid Waste Management
The utility bill includes the cost of biweekly garbage collection and weekly recycling collection.
Convenient ways to recycle in Richmond:
Recycle food scraps, food soiled paper, and yard trimmings in your Green Cart.
Schedule large household items to be picked up at the curbside (6 items per year, per household) by calling 604-270-4722 or purchase a $5 voucher at City facilities to dispose of up to $25 worth of waste at the Vancouver Landfill.
Recycle plastic containers and trays, aerosol cans, aluminium foil and cans, paper cartons, and other containers in your Blue Box or Containers Cart.
Recycle glass bottles and glass jars in your grey Glass Recycling Bin or Glass Recycling Cart.
Recycle mixed paper including newspapers and flyers in your yellow Mixed Paper Recycling Bag or Mixed Paper Cart.
Purchase a compost bin for $25 plus tax from Richmond's Recycling Depot (5555 Lynas Lane, open 7 days a week from 9:00 a.m. to 6:15 p.m.) and create your own nutrient-rich soil.
Recycle Styrofoam, upholstered furniture, propane tanks, butane cylinders, electronics and more at the Richmond Recycling Depot.
Garbage Cart Program
To help achieve its goal to reduce garbage, Richmond collects garbage biweekly to promote recycling. With the Garbage Cart program residents can reduce their annual garbage fees by reducing the amount of garbage they generate. Garbage Cart charges are based on cart size. Visit www.richmond.ca/garbage for more information.

The net rates (after discount) for garbage cart services are:
| Garbage Cart Size: | Single Family Annual Cost: | Townhouses Annual Cost: |
| --- | --- | --- |
| 360 Litres | $526.40 | $430.00 |
| 240 Litres | $414.15 | $317.75 |
| 120 Litres | $387.15 | $290.75 |
| 80 Litres | $360.65 | $264.25 |
Richmond Collection Schedule
The Richmond Recycling app is free from the Apple and Android app stores and will send you weekly reminders about what will be collected each week. The app also includes a Recycling Wizard -- a simple tool to find out where to recycle a wide variety of household items.
Recycling and Waste Management Utility Fees Explained
Your City utility bill includes fees for garbage and recycling collection as well as programs such as illegal dumping clean-up, litter collection, the Richmond Recycling Depot, recycling in parks and other public spaces. Here's a guide to help understand where the fees listed on your utility bill are applied to these services.
Annual Garbage
Annual Blue Box/ Blue Cart
Annual Waste Management

City Garbage Cart program (fees based on cart size)

City Green Cart recycling (food scraps and yard trimmings)*

City Large Item Pick Up program*

Blue Box/Cart recycling (plastic containers, tin /aluminum cans, etc.)

Mixed Paper Bag/Cart (paper, small cardboard and newspaper)

Glass Recycling Bin/Cart (clear and coloured glass bottles and glass jars)

Public spaces garbage and recycling collection
*These programs are listed separately on utility bills for townhomes.

For more information on Richmond's programs and services, please visit www.richmond.ca/recycle or call 604-276-4010.
Environmental Sustainability
Utility charges to residents include environmental sustainability services such as ecosystem protection and enhancement, environmental planning and assessment, pesticide management, pollution prevention, and bylaw compliance. The City offers environmental sustainability workshops to the public and supports local outreach and stewardship programs, including the Richmond School District. For more information visit www.richmond.ca/sustainability.
Flood Protection System
The City is on average one meter above mean sea level, and is protected by an extensive system of dikes, pump stations, storm sewers, culverts and watercourses. The system includes 39 pump stations and 49 kilometres of dikes that meet or exceed Provincial design requirements.
Climate change scientists predict up to 1 m of sea level rise and 0.2 metres of ground settlement by 2100. The City is well prepared for sea level rise through our Flood Protection Program and has allocated $13 million annually towards flood protection improvements, which include raising our dikes in preparation for sea level rise and upgrading our pump stations to increase capacity.
Average Cost of Household Expenses per Day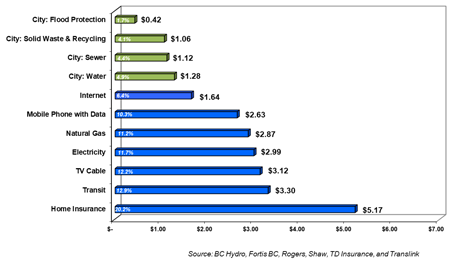 You can keep track of your payments and consumption history by registering with My Property Accounts.
For More Information
If you have any questions, please:
Contact the Tax Department at 604-276-4145, relating to billing or changes to your account.
Contact the Operations Yard at 604-270-8721 and ask to speak to the Managers of Water Services, or Sewer and Drainage Services for questions relating to those areas.
Contact Environmental Programs at 604-276-4010 or by email at garbageandrecycling@richmond.ca for information on garbage and recycling or visit www.richmond.ca/recycle.
We provide sustainable infrastructure, environmental leadership and service excellence which are essential to the health, safety, mobility and quality of life for our island community.