Program Information
Learn to Skate Lessons
Lessons are offered during the fall, winter and spring seasons with programs divided into preschoolers, children and adults skill levels covering the fundamentals of skating. See the Helmet Policy and Requirements below for specific requirements.
Arenas - Learn to Skate Levels
3 Ways to Register
Select a button below to browse and register
604-276-4300, Mon-Fri, 8:30am-5:00pm
In-person at any community facility. Note: Debit, cheque and cash are also accepted when registering in person.
Skating Lessons
Skating Lessons - Preschoolers

Summer 2023 - Richmond Ice Centre
Spring 2023 - Richmond Ice Centre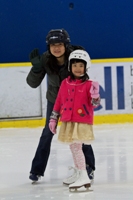 Helmet Policy & Requirements
Helmets are approved for each sporting activity for best protection during a specific activity that includes hockey, cycling and boarding. Note: A sport specific helmet cannot prevent all head injuries in all sports. Helmets have a certification expiry date from the CSA, so check and ensure that helmet certifications are current. For all skating and ice-related sports, it is strongly recommended that a hockey helmet be worn.
A valid CSA hockey helmet is mandatory for:
Lesson programs
Adult Stick and Puck programs
A valid CSA hockey helmet is strongly recommended for:
A valid CSA hockey helmet and full gear is mandatory for:
Adult Drop-In Hockey programs
Child Drop-In Hockey programs
Youth Stick and Puck
Bicycle helmets are no longer permitted to be worn in any ice-related program.