ParticipACTION Community Challenge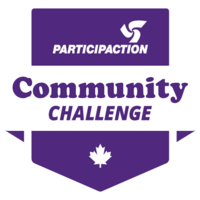 Join the Community Challenge June 1-30
Together we move!
Participate in the Community Challenge this June and help Richmond become Canada's Most Active Community.
About the Challenge
The ParticipACTION Community Challenge is a fun, free, nationwide initiative that rallies communities to get more active. Open to individuals, groups, schools and businesses, participants can track their activities in the month of June through the ParticipACTION mobile app or website. Schools can log physical education class time, teams and sport clubs can log minutes for practices and games and gyms can log group fitness and weight room workouts.
The Community Challenge is about moving in whatever way works for you. Walk the dog, spend time in the garden, play with the kids, golf, pickleball…every activity counts! Build connections and stay motivated by following our social media channels and sharing our posts.
Participation is Easy
Step 1: Get the app
Download the ParticipACTION app through the Apple or Google Play Store.
Step 2: Sign up for the Community Challenge
Register for the Community Challenge using your Richmond postal code. Click here to sign up
Step 3: Track your Activity
All minutes tracked on the app and the website from June 1-30 will count towards Richmond's total score. As an added convenience, you can sync your fitness tracker with the app. Remember, tracking on behalf of a group, organization or family member, is done through the ParticipACTION website.
Track your Family's Active Minutes
Using the ParticipACTION website (not the app), you can add family members and submit their daily minutes on their behalf. A great alternative for children who do not have a phone or those who prefer not to use the app.
Tracking Active Minutes as an Organization/Team
Organizations/teams can track group fitness classes, team practices and games as a group. Visit the ParticipACTION website, sign up as an individual and then click "Track Organizational Minutes". Complete your profile by entering the details for the organization, school, etc. Then create a "New Activity" and record the group's minutes.
Community Challenge Kick-Off
Mark your calendar for June 2 and join us between 4:00-6:00pm in Thompson Park for the Community Challenge kick-off event. Perfect for all ages and interests, this event will feature a number of free activities including: learn to curl, outdoor fitness classes, a rockwall and a meet and greet with Olympian, Evan Dunfee.

June 1-7
Friday, June 2
ParticipACTION Community Challenge Kick Off Event
The ParticipACTION Community Challenge Kick Off is event hosted at the Thompson Community Park. Bring your friends and family and get active in the park, and celebrate the kick off of activities and events happening each day throughout Richmond in the month of June.
Thompson Community Park
4:00-6:00pm FREE
Saturday, June 3
Guided Walk
Join this walk through a 30-acre urban park in East Richmond and explore the many amenities offered.
King George Park
10:00am FREE
Volleyball - for Girls - Preteens

Develop fundamental volleyball skills in this developmental program. Registration required.
Anderson School
4:20-5:20pm FREE #244989
Volleyball - Youth

Develop fundamental volleyball skills in this developmental program. Registration required.
Anderson School
5:45-6:45pm FREE #244990
Sunday, June 4

Fitness Marathon - Youth and Adults
Participate in one or more fitness segments or stay for the whole Fitness Marathon! Registration required.
Thompson Community Centre
9:30am-12:30pm FREE
Tuesday, June 6
Finding your Happy Place
Join us for a series of Fitness and Wellness workshops aimed to help you remove barriers in your health and fitness regimen in order to reach your full potential.
West Richmond Community Centre (Hugh Boyd Secondary School)
1:05-1:50pm FREE
June 8-14
Thursday, June 8
Guided Walk

Join in a panoramic view of the Fraser River on this walk along the South Dyke trail to the historic community of Finn Slough and back.
Meeting Spot: No. 3 Road pier, south end of No. 3 Road at Dyke Road.
7:00pm FREE
Intro to Nordic Poling - (55+yrs)

Learn how to turn walking into a total body exercise with this activity that provides aerobic and muscular conditioning using poles and tubing for some strength intervals. A limited number of poles provided for use during session. Registration required.
Minoru Centre for Active Living
10:00-10:30am FREE #237147
10:45-11:15am FREE #237151
Intro to Pound

Feel rather than hear the music in this exhilarating program that uses Ripstix® to transform drumming into an effective workout for all fitness levels. Ripstixs® provided for use during session. Registration required.
Minoru Centre for Active Living
2:30-3:15pm FREE #237123
Open Gym - Drop-in - Youth (13-18yrs)

Drop-in and play after school in this free program for youth. Engage in sport while tuning into a variety of competing genres. Theme: 80's vs 90's. For added fun dress in costume. Youth Facility Pass 1 (Free) or 2 required.
Cambie Community Centre
3:00-4:30pm FREE
Friday, June 9
Soccer - Girls (6-8yrs)
Dribble, pass and kick in this fun, non-competitive atmosphere. All self-identifying female and non-binary participants welcome.
Anderson School
4:30-5:30pm FREE #244313
Soccer - Girls (9-12yrs)

Dribble, pass and kick in this fun, non-competitive atmosphere. All self-identifying female and non-binary participants welcome.
Anderson School
5:45-6:45pm FREE #244314
Saturday, June 10
Soccer - Parent and Tot (3-5yrs)
Learn new soccer skills together that include dribbling, passing and throw-ins to then practice in fun games. Parent participation required.
Anderson School
9:15-10:00am FREE #244304
Soccer - Parent and Child (6-8yrs)

Dribble, pass and kick in this fun, non-competitive atmosphere.
Anderson School
11:05am-12:05pm FREE #244310
Strength Training Workshop - Intergenerational (55+yrs)

Exercise safely in this intergenerational workshop that focuses on gentle movement and increasing range of motion, strength, balance and agility to better manage daily activities and build strong intergenerational relationship. Registration required.
City Centre Community Centre
3:00-4:00pm FREE #218277
Strength Training Workshop - Intergenerational - Youth (13-20yrs)

Exercise safely in this intergenerational workshop that focuses on gentle movement and increasing range of motion, strength, balance and agility to better manage daily activities and build strong intergenerational relationship. Registration required.
City Centre Community Centre
3:00-4:00pm FREE #222746
Volleyball - For Girls - Preteens

Develop fundamental volleyball skills in this developmental program. Registration required.
Anderson School
4:20-5:20pm FREE #244989
Volleyball - Youth

Develop fundamental volleyball skills in this developmental program. Registration required.
Anderson School
5:45-6:45pm FREE #244990
Sunday, June 11
Drumfit and Yoga - Adults
Come enjoy a free 60 minute fitness combo to celebrate Richmond's Community Challenge. This class will include a 30 minutes Drum Fit class, (using a large ball and drumsticks to drum to fun music) and 30 minutes of Yoga (focusing on core strength and a gentle stretch).
Cambie Community Centre
5:30-7:00pm FREE #244694
Tuesday, June 13
Finding your Happy Place
Join us for a series of Fitness and Wellness workshops aimed to help you remove barriers in your health and fitness regimen in order to reach your full potential.
West Richmond Community Centre (Hugh Boyd Secondary School)
1:05-1:50pm FREE
Soccer - Parent and Tot (3-5yrs)

Learn new soccer skills together that include dribbling, passing and throw-ins to then practice in fun games. Parent participation required.
Anderson School
10:10-10:55am FREE #244312
June 15-21
Thursday, June 15
Open Gym - Drop-in - Youth (13-18yrs)

Drop-in and play after school in this free program for youth. Engage in sport while tuning into a variety of competing genres. Theme: Old Disney vs. New Disney. For added fun dress in costume. Youth Facility Pass 1 (Free) or 2 required.
Cambie Community Centre
3:00-4:30pm FREE
Friday, June 16

Hip Hop - Youth
Develop a base of strength while improving cardio, balance and agility in this unique total body workout. Registration required.
City Centre Community Centre
7:00-8:00pm FREE #241790
Saturday, June 17
Guided Walk
Pass along the North Arm of the Fraser River on this serene walk on the Sea Island that is a pleasure for airplane and bird-watching enthusiasts.
MacDonald Beach
10:00am FREE
Tuesday, June 20

Finding your Happy Place
Join us for a series of Fitness and Wellness workshops aimed to help you remove barriers in your health and fitness regimen in order to reach your full potential.
West Richmond Community Centre (Hugh Boyd Secondary School)
1:05-1:50pm FREE
Yoga for Racquet Sports Workshop (16+yrs)
Learn a range of yoga techniques and poses specifically designed for Pickleball, squash and tennis to support personal health and wellness goals and to improve performance, balance, coordination and prevent injuries.
South Arm Community Centre
6:45-8:00pm FREE #244996
Dance and Tone (16+yrs)
Shake, sway and shimmy in this overall workout set to popular dance music and followed with resistance training.
South Arm Community Centre
7:30-8:30pm FREE #245057
Wednesday, June 21
Fit Trip to the East - Adults
Women Only! Three 30 minute back to back classes will be a taste of the East. Bhangra Fitness, (simple Bhangra dance moves to music), Yoga, (focusing on core strengthening and a gentle stretch) and Zumba (focusing on Belly dance moves and music).
Cambie Community Centre
5:30-7:00pm FREE #244679
International Yoga Day Workshop

Celebrate the many physical and spiritual benefits of yoga. This 2 hour workshop includes an asana practice and a guided relaxation to support increased awareness and mindfulness of the breath and body.
Minoru Centre for Active Living
4:00-6:00pm $5 #233945
MOTHLIKE/silvery-blue: score for the summer solstice

Celebrate the summer solstice with a participatory performance in connection Amy-Claire Huestis' exhibition at Richmond Art Gallery. The artist alongside dancers and vocalists will lead a procession along the paths of Garry Point Park as the sun sets. The public is welcome to participate in the procession.
Garry Point Park
8:00-9:30pm FREE
June 22-30
Thursday, June 22
H.I.I.T. (16+yrs)

Increase Energy in this high-intensity class that improves cardiovascular function, muscular strength and power.
South Arm Community Centre
1:00-2:00pm FREE #245059
Open Gym - Drop-in - Youth (13-18yrs)

Drop-in and play after school in this free program for youth. Engage in sport while tuning into a variety of competing genres. Theme: Country vs. Techno. For added fun dress in costume. Youth Facility Pass 1 (Free) or 2 required.
Cambie Community Centre
3:00-4:30pm FREE
Friday, June 23
Chair Fitness (55+yrs)
Manage chronic conditions and pain more effectively with simple exercises in this basic fitness class designed for older adults and those experiencing mobility challenges.
South Arm Community Centre
11:45am-12:45pm FREE #245105
Saturday, June 24

Active and Fit (55+yrs)
Maintain or attain an active lifestyle by increasing cardiovascular fitness and building and preserving muscular strength, endurance, coordination, balance and flexibility.
South Arm Community Centre
11:00am-12:00pm FREE #244997
Cycle Competition - Youth

Create cycling teams of three youth and participate in a competition on spin bikes. Swap on and off the bike with teammates and see which team can cycle the furthest distance to win prizes. Registration required.
City Centre Community Centre
4:30-5:30pm FREE
Sunday, June 25
Pilates (16+yrs)
Create long, lean and toned muscles and improve posture by focusing on core movements, a full range of motion and adding strength in these non-impact classes performed on mats.
South Arm Community Centre
9:00-10:00am FREE #245066
Active Start - Parent and Tot - Preschoolers (2-3yrs)

Learn how to run, jump, roll, balance and catch together along with other Fundamental Movement Skills that are critical to establishing the foundation for future participation in sports and physical activities. Parent participation required. Find details at physical literacy.
City Centre Community Centre
10:15-10:45am FREE #244231
10:55-11:25am FREE #244263
11:35am-12:05pm FREE #244264
12:15-12:45pm FREE #244300
Monday, June 26
Zumba Marathon Week (16+yrs)
Move to zesty Latin and international music in this dance fitness program that offers a great cardiovascular workout with easy to follow routines.
South Arm Community Centre
7:00-8:30pm FREE #245049
Tuesday, June 27
Nordic Pole Walking
Turn walking into a total body exercise using poles. Bring poles or use ones provided.
West Richmond Community Centre (Hugh Boyd Secondary School)
2:00-3:00pm FREE
Zumba Marathon Week (16+yrs)
Move to zesty Latin and international music in this dance fitness program that offers a great cardiovascular workout with easy to follow routines.
South Arm Community Centre
7:00-8:30pm FREE #245051
Wednesday, June 28
Zumba Marathon Week (16+yrs)
Move to zesty Latin and international music in this dance fitness program that offers a great cardiovascular workout with easy to follow routines.
South Arm Community Centre
7:00-8:30pm FREE #245053
Thursday, June 29
Nordic Pole Walking
Turn walking into a total body exercise using poles. Bring poles or use ones provided.
West Richmond Community Centre (Hugh Boyd Secondary School)
2:00-3:00pm FREE
Zumba Marathon Week (16+yrs)

Move to zesty Latin and international music in this dance fitness program that offers a great cardiovascular workout with easy to follow routines.
South Arm Community Centre
7:00-8:30pm FREE #245054
Open Gym - Drop-in - Youth (13-18yrs)

Drop-in and play after school in this free program for youth. Engage in sport while tuning into a variety of genres from across the globe. Theme: Around the World. Youth Facility Pass 1 (Free) or 2 required.
Cambie Community Centre
3:00-4:30pm FREE
Friday, June 30
Pure Stretch (16+yrs)
Improve flexibility and reduce stress in this class that offers basic total body stretching
South Arm Community Centre
12:00-1:00pm FREE #244998
Zumba Marathon Week (16+yrs)

Move to zesty Latin and international music in this dance fitness program that offers a great cardiovascular workout with easy to follow routines.
South Arm Community Centre
7:00-8:30pm FREE #245055