Current Projects
Parks Capital Projects Highlights
Use this interactive map to explore some of the major Parks Capital Projects being worked on to advance the City's strategies. You can interact with projects that interest you through the map or the links.
Explore the 2022 Parks Capital Projects Highlights
Watch this short overview video to learn how the interactive map works.
To view previous Park Capital Story Maps, visit the link below:
Note: The actual commencement of construction for all capital projects may be adjusted to align with the status of the COVID-19 response.

Garden City Lands

Visit the Garden City Lands page for more information about the development of the Garden City Lands Legacy Landscape.

Minoru Lakes Renewal
Originally designed in the 1970's, the Minoru Park Lakes District is in need of renewal to better respond to expanding community needs, reduce reliance on City resources and enhance ecological benefits. Based on feedback received during public consultation for the Minoru Park Vision Plan, Minoru Lakes will be retained as a key park feature similar in size and character as they are today.
The vision for the Minoru Lakes District is:
Protect and enhance the Lakes District as a place to connect with nature, be close to the water's edge, and seek respite from the surrounding City Centre while also improving function, environmental benefits and reducing maintenance requirements.

The updated design features include, a new cascading waterfall, paved pathways and boardwalks with lighting, new plaza areas, site furnishings, planting focused on ecological benefits, and more. The design incorporates best management practices where possible related to sustainability and circular economy initiatives.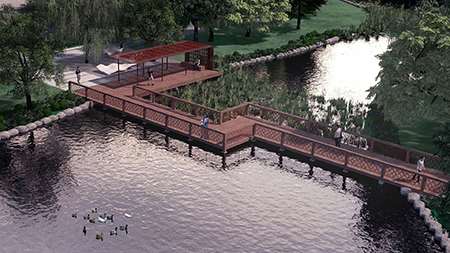 Construction began April 2022 and will proceed into early 2023.

Areas closed to the public during construction include the existing lakes and plaza areas, pathways and trails north of the canal including the pedestrian bridges, and portions of the Bowling Green Road parking lot. Other amenities within the 26 hectare (65 acre) Minoru Park remain open including the Minoru oval track, sport fields, playground, and chapel gardens.
To learn more about the Minoru Lakes Renewal Project including background information, archival images, design details and concept plans, please visit the Story Map link below:
Minoru Lakes Renewal Project Story Map
Back to Top

Playground Renewal: South Arm Park Playground and Gathering Space

The playground and picnic area at South Arm Park was implemented over time resulting in playground equipment, site furnishings, and pathways of varying ages. The majority of the playground equipment, furnishings and nearby pathways are aging and in need of renewal. This provides an opportunity to develop a more cohesive play and community gathering space. A public consultation process took place in 2019 regarding the existing playground and surrounding park areas during which community feedback and ideas for their future renewal were received.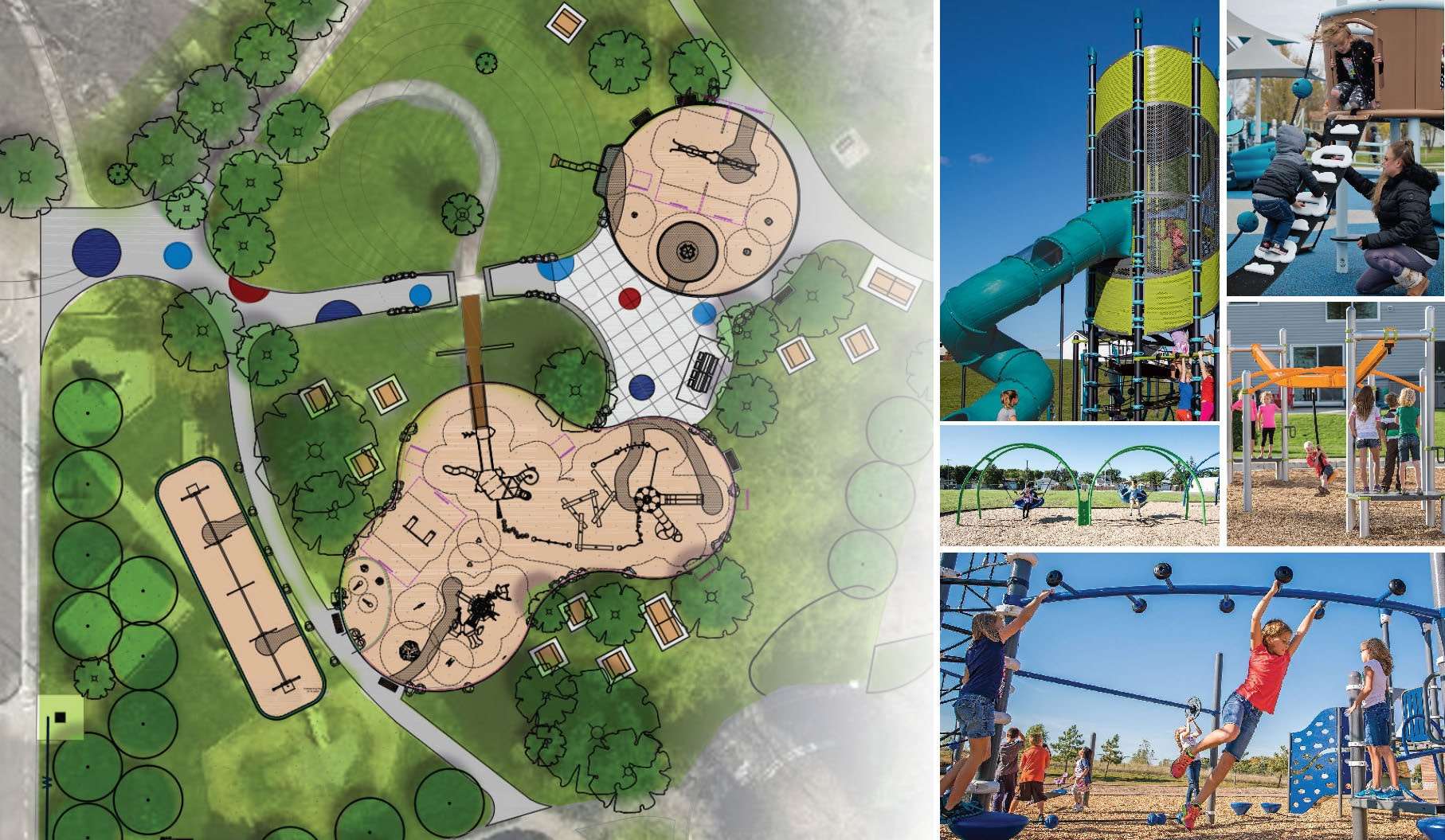 Project Update!

Renewal of the playground and immediate surrounding park areas at South Arm Community Park will begin fall of 2022. The new playground will feature multiple slides, climbers, monkey bars, a tower, swings, spinners, nature play elements, and a new big zip line! The playground renewal process will result in a more cohesive play environment, broader range of play experiences, and incorporation of more inclusive play. A new plaza, pathways, benches, and picnic tables will also be integrated into the new playground area. The updated playground is expected to be open to the public in spring of 2023, depending on weather.

To ensure public safety and due to the scale and complexity of the project, the playground will be closed during construction. Note that there are alternative playgrounds located nearby at 9282 Williams Road (at the northeast corner of South Arm Park behind James Whiteside Elementary School) and 10400 Leonard Drive (at William Bridge Elementary School).

Please note that bench dedication plaques that are located within the playground work zone will be removed during construction and reinstated on new benches.

For questions, including those related to the bench dedication program, please contact Parks Services at 604-244-1208 or email parks@richmond.ca
Back to Top

London Heritage Farm

The London Heritage Farm site was opened to the public in 1983 and features experiences reflecting the site's unique heritage and story, such as agricultural exhibits, a chicken coop, fruit trees, and gardens themed with historic planting.
The master plan was adopted by Council in 2021 and aims to retain many of the existing elements of the park, improving upon the overall heritage character and aesthetic of the site. New elements include pond improvements, a boardwalk, park furnishings, widened accessible pathways, and heritage displays.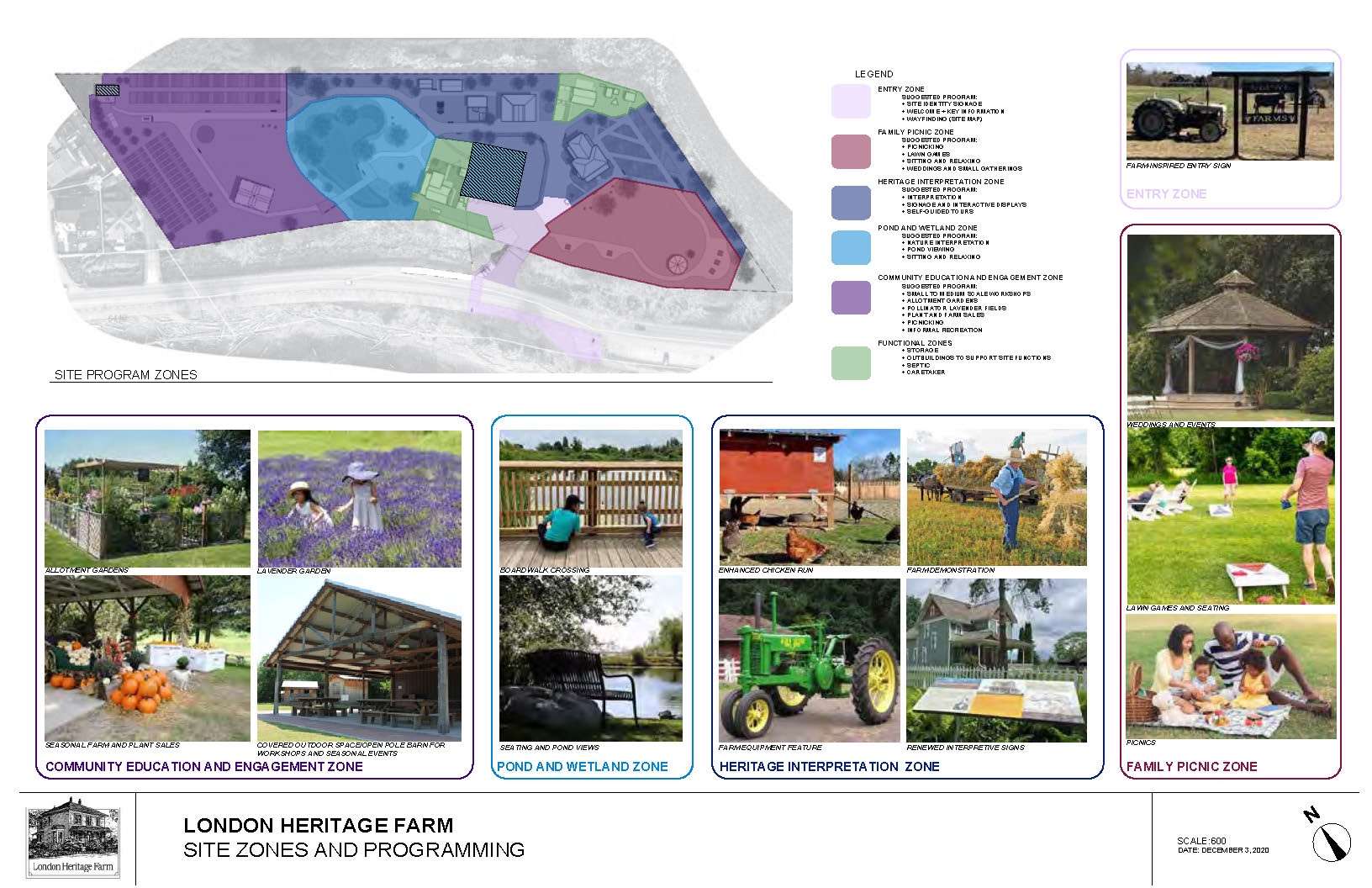 Back to Top

NEW Community Gardens
UPDATE: The new community gardens along the Railway Greenway and at Cook Neighbourhood Park are complete.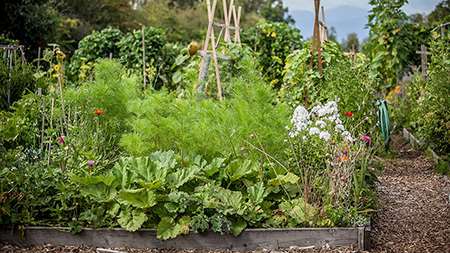 The infrastructure for the gardens, including site preparation, a water connection, perimeter fencing and gate, garden shed, gravel pathway and signage were constructed by the City. Through a partnership with the City, Urban Bounty (UB) administer the community garden sites, construct the garden beds, provide soil and garden tools through their own funding efforts. UB will also oversee the ongoing management of the gardens including administering the wait list for new gardeners.
Community gardens are a shared green space with individual and group garden plots which are maintained by community garden members to grow food, flowers, and other plants. The gardens provide low-barrier opportunities for residents of all ages and abilities to not only cultivate plants, but also meet new friends, share knowledge, and build a sense of community. The food, flowers, and other plants grown in each plot belong to the registered gardeners, and cannot be used or sold for any commercial purposes.
Back to Top

Steveston Community Park - Dog Park Upgrades
UPDATE: The Steveston Community Park dogs off-leash area upgrade is complete and open to all users.


A new dog off-leash area is also being planned for London/Steveston Neighbourhood Park. This was envisioned as part of the original park masterplan and, once realized, will complete the park build-out. Preliminary planning and design work is expected to commence in 2022, with construction to follow in 2023.
Back to Top